Australian Privacy Policy Principles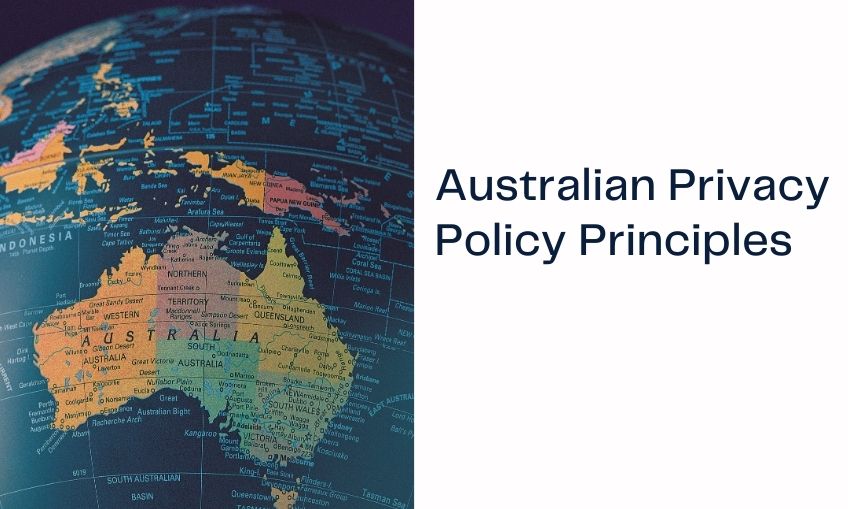 The Australian privacy act is much older than many other popular privacy laws of the world, including GDPR and CCPA. It was implemented in 1988 to promote the protection of the privacy of Australian citizens and aims to regulate the functioning of Australian government organizations and other organizations which have an annual turnover of more than $30,000 and use personal data of the residents of Australia. The Australian privacy policy principles allow a free flow of information within the Australian territory while making sure that the privacy of the data subject is protected and respected.
It gives the citizens the right to file a complaint if their data privacy is allegedly interrupted. The act extends to external territories as well. It specifies which foreign entities it applies to. There are clearly defined terms and conditions for sharing information with other countries.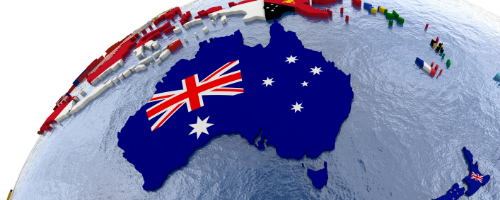 Guidelines of the Australian privacy policy
As per Australian privacy laws, there are 13 Australian Privacy Policy Principles that govern a privacy policy –
1. Open and transparent management of personal information
It requires all the entities that come under App privacy principles to make sure that they process personal data of the users in a transparent way. It also mandates these organizations to publish a privacy policy.
2. Anonymity and pseudonymity
It gives the data subjects the right to stay anonymous. They may not identify themselves if they wish to and use a pseudonym.
3. Collection of solicited personal information
This section sets an outline and defines the conditions when an APP entity can collect solicited personal data of the Australian citizens. It applies strict rules to the collection of sensitive personal data.
If you plan to establish an online business presence in Germany, you must adhere to the Impressum law. Find out more about Impressum in our dedicated article.
4. Dealing with unsolicited personal information
Australian privacy policy principles fixes guidelines about how an organization can collect personal information of the users, which is categorized as unsolicited.
5. Notification of the collection of personal information
This section defines when and in what kind of circumstances one may collect personal data and notify an individual about it.
6. Use or disclosure of personal information
This section defines when and in what kind of circumstances one may use and disclose certain information that it holds to some specific individuals.
7. Direct marketing
As per App privacy regulations, an organization must meet certain conditions in order to use personal data of Australian citizens for business purposes.
8. Cross border disclosure of personal information
There are a set of guidelines that defines the steps an App entity must take to share users' personal data with foreign countries. They must ensure that the data is protected.
9. Adoption, use, or disclosure of government related identifiers
In a few circumstances, one may use an individual's identity or his government-related identity as his identifier or adopt any government-related identifier for the purpose. This section lists and specifies these circumstances.
10. Quality of personal information
An App entity that collects or processes personal data must ensure that the collected information is up to date, complete, and accurate.
11. Security of personal information
One must take the required steps to protect the personal information that it holds from misuse, interference, loss, and unauthorized access.
12. Access to personal information
This section fixes guidelines about the obligation of an App entity to give individuals access to personal information about them that is in store. The entity must provide the access unless some specific condition is applied to it.
13. Correction of personal information
The final principle fixes outlines about an App entity's rights and obligations about the correction of the personal data that is stored in his database.
How to comply with the Australian privacy policy
You must publish a privacy policy on your site to be in line with the requirements of Australian privacy policy principles. The privacy policy should state clearly under which guiding principle your business falls. How you collect the personal information of the visitors, how you use them, and in what way you disclose them if you do.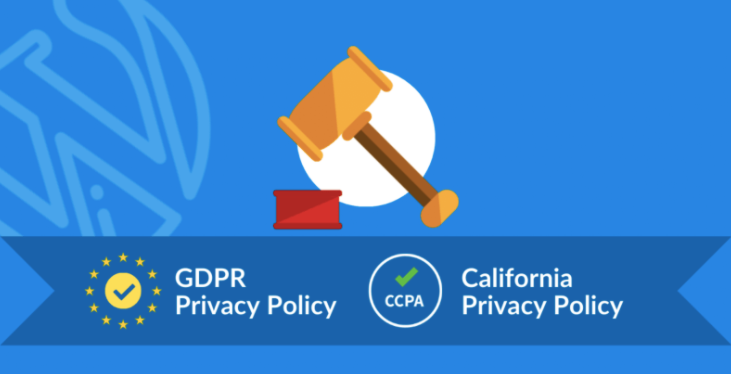 WP Legal Pages offers you a ready-made template for "Privacy Policy." You can create a policy easily to comply with the Australian privacy laws with just a few clicks. All you need to do is to import the template, add your details, and publish the page. First of all, see what information you must include in your privacy and then draft the page. WP Legal Pages is available in free and pro version.
If you use cookies to collect users' information, you should use cookie notices and take the users' consent before collecting their personal data. You should go for a cookie policy as well. WP Cookie Notice is a WordPress plugin that helps you to create cookie notices as per the privacy laws of Australia. WP Cookie Notice is available in free and pro version.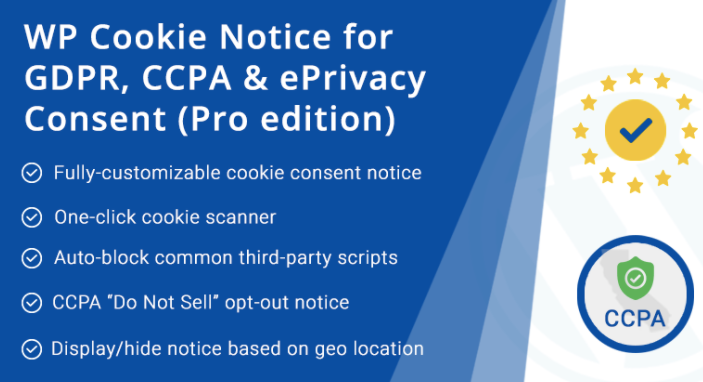 It has highly customizable pre-designed pages for cookie notices. Just add your cookie information, customize the design, and mention the cookie category. And you are done. Make your page live. You can manually set the position of the cookies. If you wish to block some third-party cookies, there are options for that. You have to enable the cookie blocker. You can show or hide cookies based on country or region using the geotargeting feature.
Examples of the Australian privacy policy
The 13 Australian privacy principles have different guidelines for different purposes when it comes to collecting personal information. Your business goal specifies what information you should include in your privacy policy. But, while creating a privacy policy, if you have a look at some good and nicely structured privacy policies, it helps you to improve your format and texts. Many times, visitors don't feel like reading the details. These will give you an idea about how to make your readers go through the documents and also where to place it on your website.
Here are some good examples of Australian privacy policy –
KPMG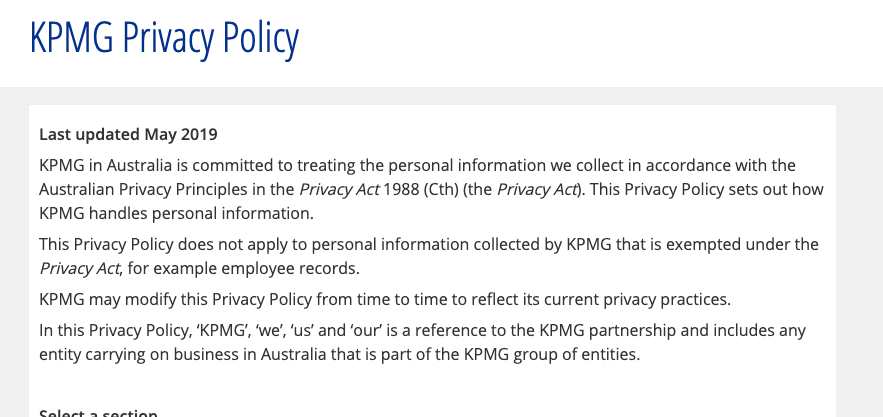 The privacy policy of KPMG can be used as a reference by any beginner while drafting a privacy policy. It makes it clear in the very beginning that it follows the guidelines of the privacy act 1988. And then, it clearly states the policy may vary from time to time, and the words like "we," "our," and "us" are the words that refer to KPMG. This sentence is used to clear all the confusion of the readers.
National Diabetes Service Scheme of Australia
The National Diabetes Service Scheme of Australia follows a very unusual format. It states in the first paragraph that it is compliant with the Privacy Act 1988. The second paragraph defines "Personal information." It is very useful for people who don't know what a privacy policy is.
Energy Australia Privacy Policy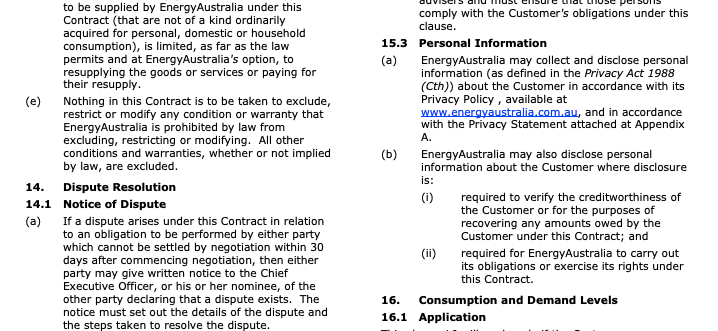 Energy Australia's Privacy Policy lists in the first line all of its activities that come under privacy policy principles. In the second paragraph, it presents a typical privacy policy notice.
Penguin Australia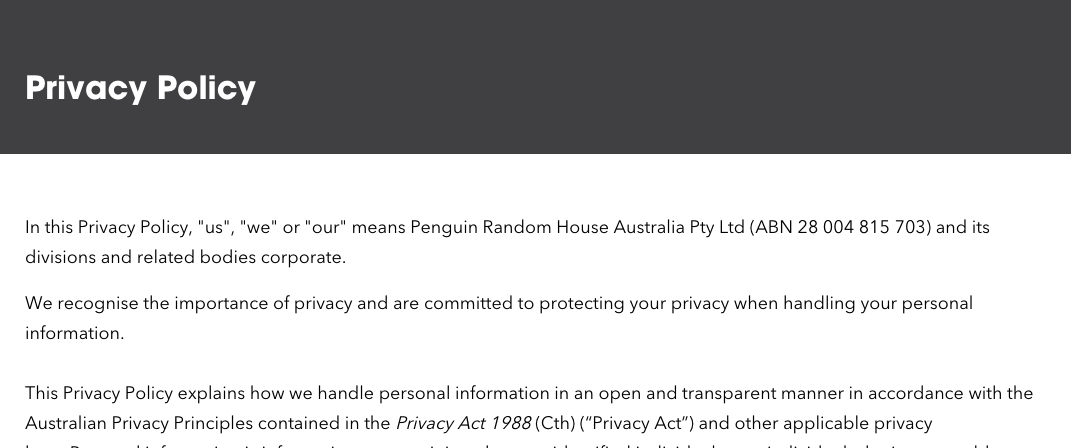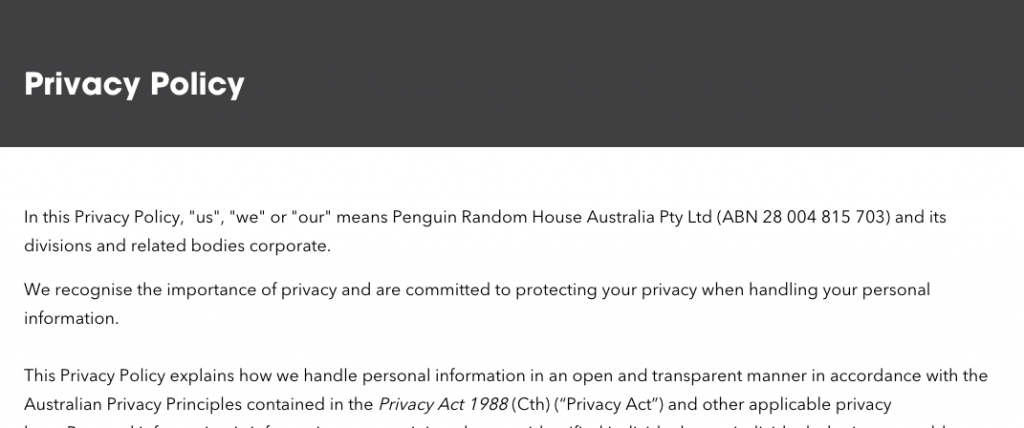 Penguin Australia is the Australian branch of Penguin book merchants. It presents information required by the App privacy laws using bullet points. It also describes how it uses the personal information of the Australian citizens and how they are disclosed.
Final thoughts…
In this article, we attempted to give you an overview of the Australian privacy policy act. We mentioned whom it applies to and defined the Australian guiding principles with adequate details. We also gave some guidance about how to comply with the privacy laws of Australia and shared two user-friendly plugins designed specifically for the purpose. At the end of the article, we presented some examples of standard Australian privacy policies for your ready reference. If you have a business presence in Australia, following our guide, you can easily create a privacy policy and comply with Australian privacy laws in minutes.