What Is An Impressum & Why You Need One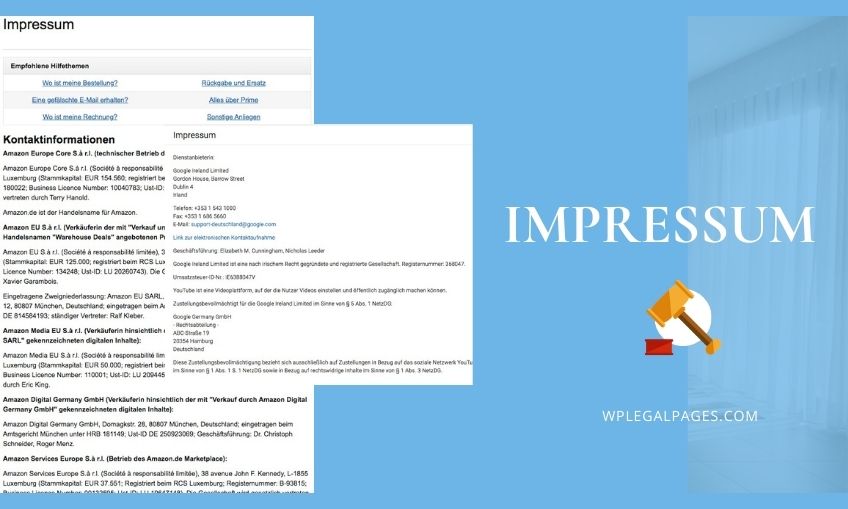 You may have come across the word "Impressum" quite some times on websites that are from Germany. Have you ever wondered what is the definition of Impressum? In this article, we will try to shed some light on what is an Impressum and will also tell you how to create one for your WordPress website.
Impressum Definition
The word Impressum refers to a statement of ownership or authorship which must be included in a website, newspaper, magazine, or book in a German-speaking country. It's a Latin word meaning to engrave or imprint.
So, the Impressum definition is basically a summary of the ownership and copyright details of the website. It is a mandatory document required by German laws.
Is it mandatory to have an Impressum?
So, what does an Impressum mean, and above all, is it absolutely mandatory? By now, you know that it is a legal disclosure for a commercial website in Germany, Austria, and Switzerland. The sites that are not commercial or are not monetized by the owners do not come under the Impression law. Apart from websites – newspapers, magazines, and flyers also fall under the rules of Impressum. It is notable that even if you don't have any physical presence in Germany but operate your website for the German citizens, you will come under the laws of Impressum.
When you publish an Impressum, you take the responsibility for the contents published on your site. It gives your viewer the impression that the information you are providing is true and trustworthy. This makes you transparent and improves your image in the eyes of the existing or target customers. It also gives them the right to sue you in case they find anything objectionable or against their values or sentiment on your website.
Things to include in an Impressum
A common question that almost everyone asks about Impressum is what to include in it. It typically carries the brief profile of the site owners.
The Telemediengesetz of Germany which translates into English as the Telemedia Act mandates all commercial German websites to disclose information about the publisher including their contact information and other necessary information depending on the type of company.
Here are the details that must be included –
Name and address of the site owner
Contact details of the site owner including the telephone number, fax number and email address
Registration and license number (if any) and the VAT details
Name of the individual legal representative (usually the site manager)
In case any activity needs authorisation, details of the supervising authority must be included
Creating an Impressum on your WordPress website
There are two different ways to generate Impressum on your WordPress website. Either manually or through a plugin. The first way is a little tiresome and time-taking where you need to do everything on your own. The second one is much easier. All you need to do is to install and activate WP Legal Pages Pro. It generates attorney level legal documents on your WordPress website. The plugin will offer you pre-designed templates created to match your purpose.
Here are the steps you need to follow:
Click on the Wizard in WP Legal Pages tab.
You will be redirected to a ready to import policy page. Click on the Impressum option, and enter the required details in the recommended settings page that follows.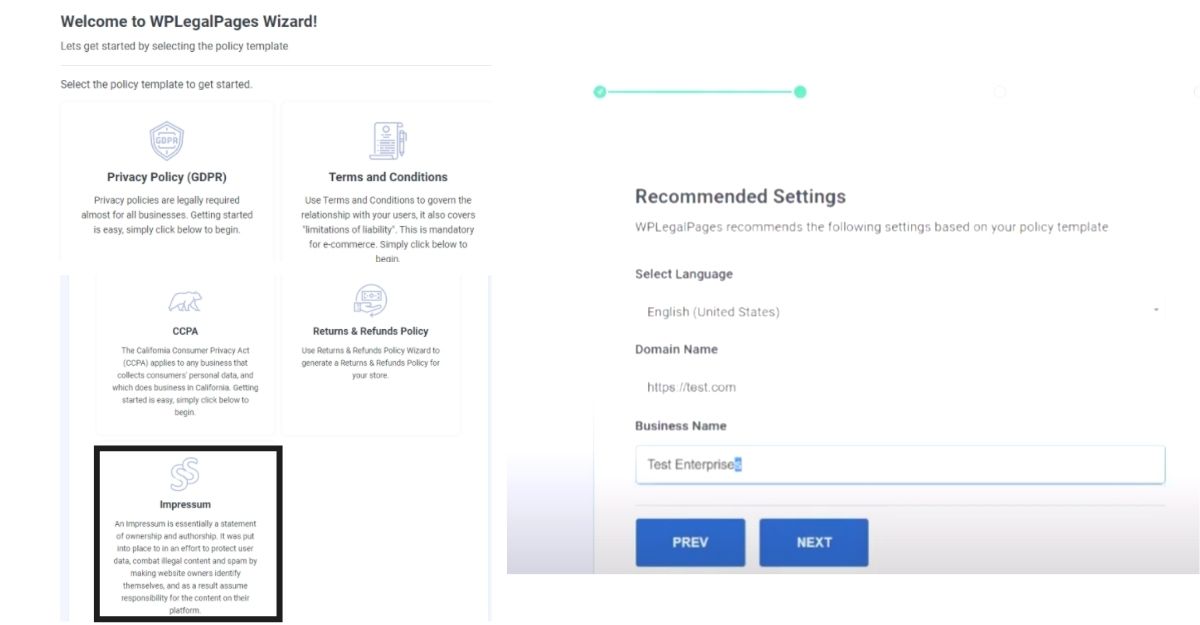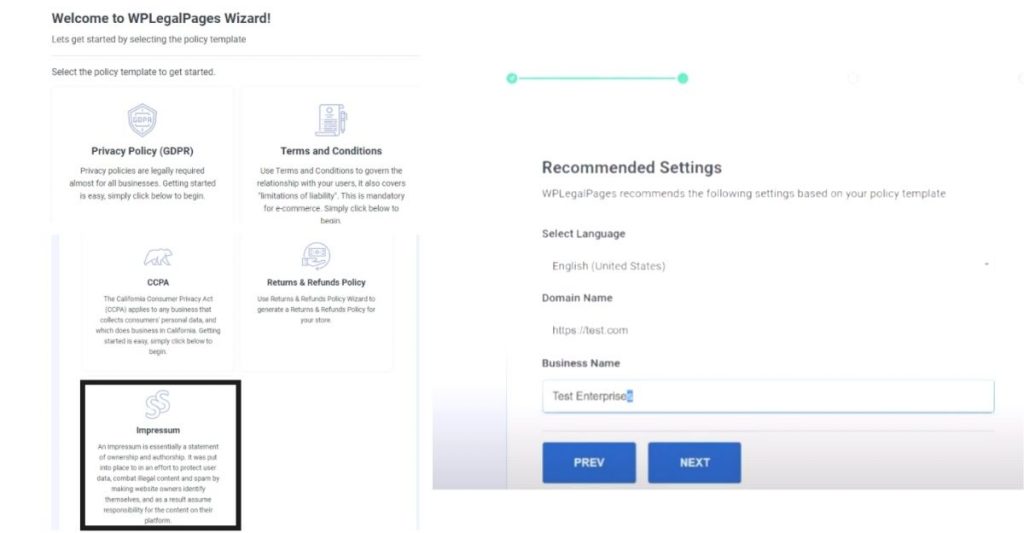 With WP Legal Pages you can create an Impressum in six different languages- French, Spanish, German, Italian, Portuguese, and English. Select your preferred language and fill in your company details.
Enter your company details in the Page Sections tab and preview the template in the Page Preview section.
After clicking on Create Page at the bottom you'll be redirected to the WordPress editor where you can make any changes to your Impressum manually if need be.
Click publish to make the page live on your website.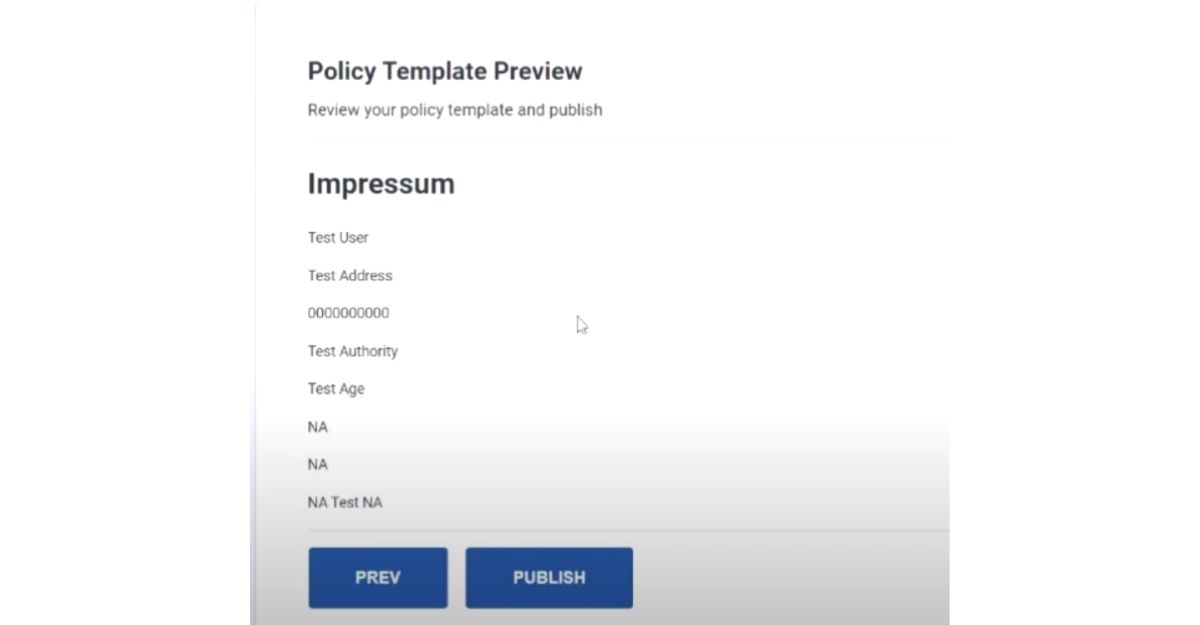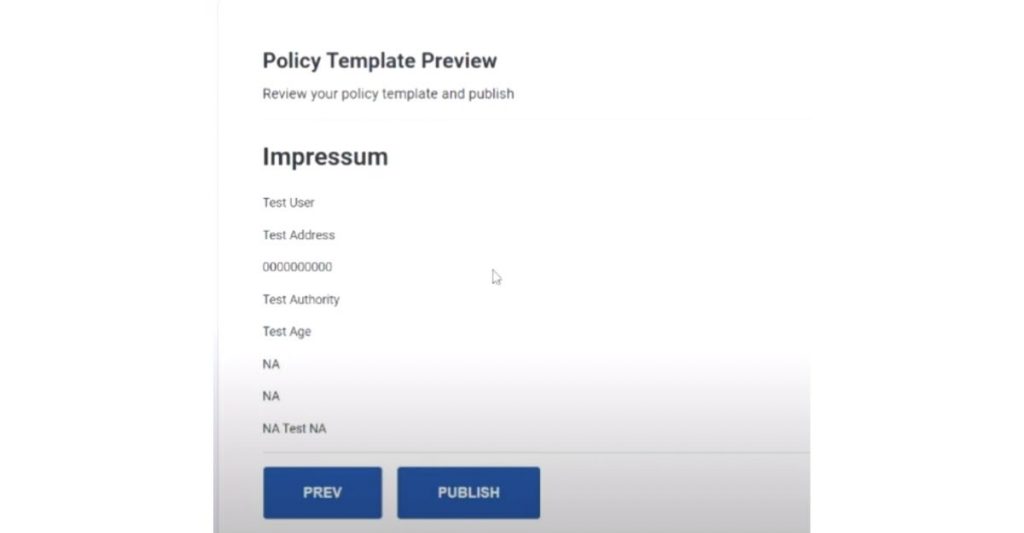 Where should the Impressum be placed?
You now know the Impressum definition, and might have a question on where it should be placed. There is no hard and fast rule regarding the placement of Impressum on a site. But there are certain things that you should keep in mind while posting an Impressum. No one should miss it and it should not create any kind of ambiguity. These are the commonly followed rules –

The impression should be immediately noticeable after entering the site
It must be easily accessible for the visitors
It should be available for everyone
In view of the above-mentioned rules, it is advisable to make a separate page for this. Otherwise, it may get merged with the other contents of a webpage. In that case, it will not be immediately noticeable. You may also put the information in the owner section of your site where you list your privacy policy and other legal disclosures. But, in that case, you must add a link to it as "Impressum" and place it in a remarkable position.
Impressum examples
1. YouTube
YouTube is an international brand and business that also has a huge German base. Here's a sample of YouTube Germany's Impressum:
2. Siemens
3. Amazon
One of the largest retailers in the world, Amazon includes the Impressum on its German-language website Amazon.de.
By now, you must have gotten a fair idea of what does Impressum means and why you need one. You have also learned about how to create an Impressum using a WordPress Plugin WP Legal Pages. Here is an article on How to create a Facebook Impressum that you can refer.
If you liked the article, please share it on Twitter and Facebook. Leave your feedback in the comments section. We would love to hear from you. If you need any further details, please feel free to contact us. We will get back to you soon.