How To Write A WooCommerce Returns And Refund Policy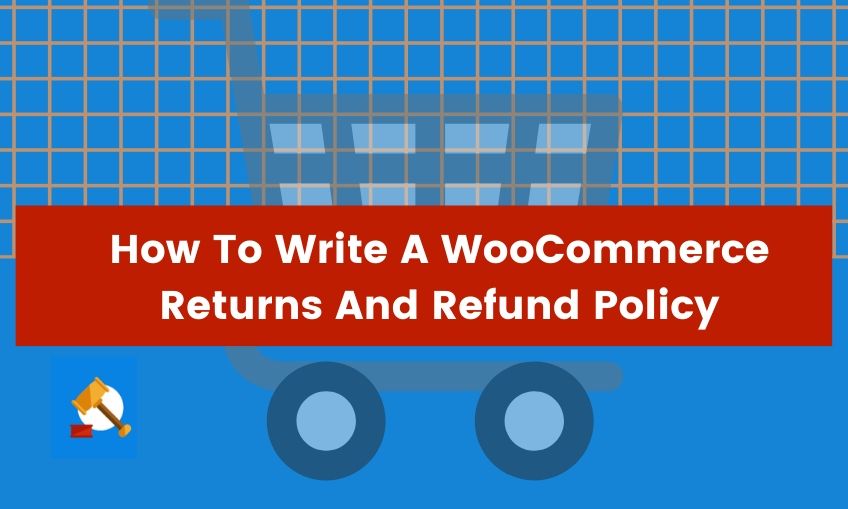 WooCommerce refund and return policy are one of the major activities if you're running an eCommerce shop. Your customers want to know whether they'll get their money back in case they're not happy with the performance of a product or service. If you have a clearly defined return policy, it increases the trust of your customers.
Most of the sites today are using refund and return policies to strengthen their bond with the customers. Buyers are now conscious. As per National Retail Foundation, in 2018 return was worth $365 billion which is about 10% of all the purchases, online and brick & mortar stores. A survey conducted in 2019 by UPS found that 73% of the customers decide whether to buy a product from a retailer again based on their refund policy. 63% believe that their overall experience of a retail store depends on the same.
Many businesses struggle with the dilemma to include appropriate policies on their Woocommerce store, be it a shipment policy or a return & refund policy. But, how to write an effective eCommerce return policy is a question that many site owners face. If you are struggling to plan a WooCommerce refund and return policy, you are at the right place. We have brought a step by step guide on how to write a return policy. Go through the article, you will be able to create your return and refund policy with a few steps.
What is a refund and return policy?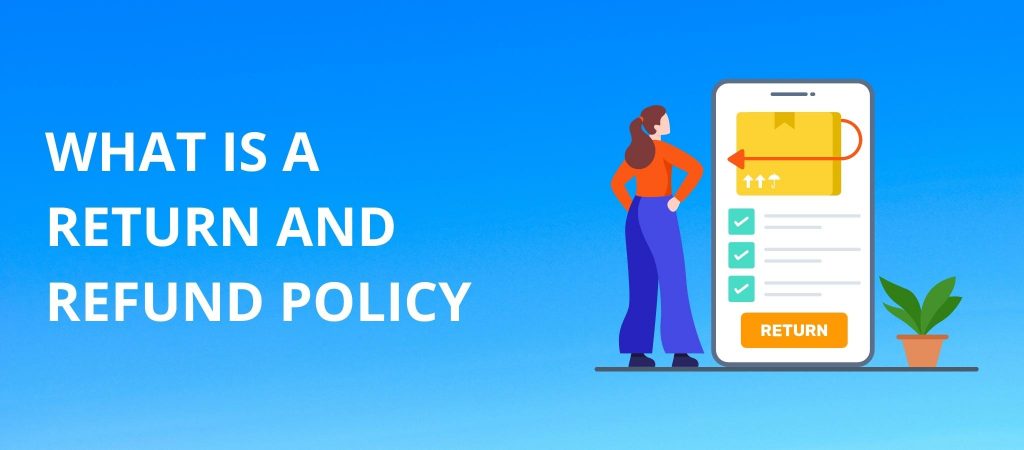 The words return and refund are often used interchangeably, but they are not synonymous. While the return is when a buyer sends an item back to the seller, the word refund means giving the buyer his money back. A WooCommerce refund policy dictates the terms and conditions of any refunds that the seller offers to the buyers after they return any product.
Types of WooCommerce returns and refund policies
There are mainly four types of return and refund policies based on what you sell on your site –
For physical goods
Physical goods are tangible goods. The most common form of products that we use in our daily lives. They are sold, shipped, and utilized physically. In the case of physical goods, the buyer can return the goods to the seller physically and take his money back. The refund is either direct hand to hand or the money is credited to the account of the buyer.

For digital goods
The word digital goods refer to the goods that are used, delivered, and stored in a digital format. They are shipped to the customers electronically through email or they can download the products. There is no true return in the case of digital goods like goods bought through WooCommerce as well. As they are downloadable, they remain in possession of the customers. But if they are not satisfied they can get money back and the support from the side of the developer is withdrawn. For example, if you return a theme and get your refund, the theme will still be with you if you don't uninstall but the support from the developers and automatic updates features will be removed.
For perishable goods
Perishable goods are the items whose quality deteriorates with time due to environmental conditions. For example, meat, fish, flower, vegetable, etc. Usually, there is no return or refund in the case of these goods as they don't remain usable after a period of time.
WooCommerce refund policy
WooCommerce refund policy is applicable to the online shops. The policy should clearly state how the goods will be returned, who will pay for shipping and how much refund will the buyer get. And also in what way the refund will be paid.
No refund policy
There are some cases when customers are not refunded their money after they buy and have used the product. This generally applies to digital products or services. It should be clearly mentioned in the WooCommerce terms and conditions if you are following a no return and no refund policy.
Best practices to write a WooCommerce return and refund policy –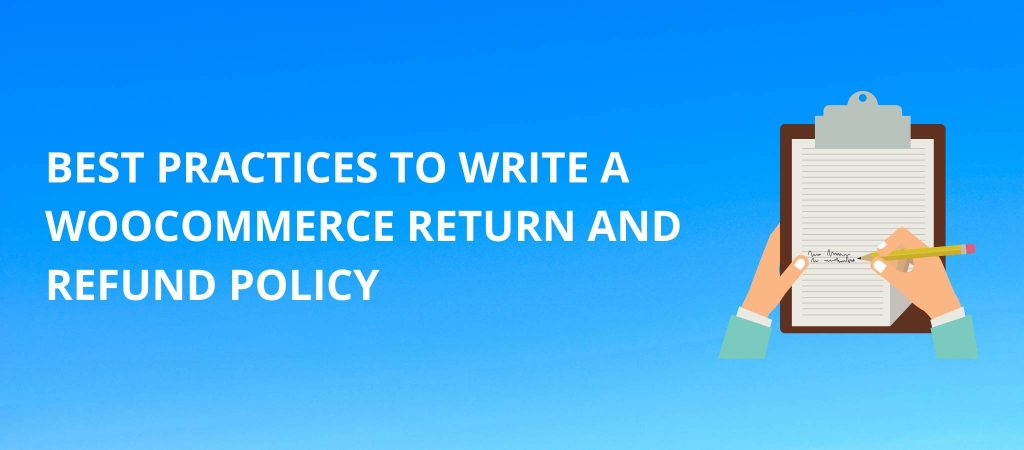 Return and refund policy is a very crucial thing. A single mistake in the policy page may affect your website and business in an adverse way. You may lose some of your valuable customers. So, be very careful while planning your policies and writing them on your web pages. Here are some tips –
Plan your own policy, don't copy others
Try to design your own policy. Define your own terms and conditions. Do not follow the structure other people have used. Because you know your visitors better. So, only you can create an online store and then create a WooCommerce policy which they will feel comfortable with.
Be precise and clear
Readers should come to know what you are trying to say at a glance. Nobody wants to read long descriptions. It is essential to make your policy compact. And it should be to the point. It should deliver the message clearly.
Use simple language
Simple language is the key to win customers. If the language is not simple, there will always be a scope of ambiguity. Readers may not understand what the policy is trying to communicate. So, it is always advisable to use an easy language.
Don't make it text-heavy
If your policy is text-heavy, viewers may not feel like going through it. Be descriptive and illustrative but try to make it short. Use bullets, numbers and break the texts into small paragraphs for the convenience of the readers.
Understand what readers want and accordingly write your policy
Try to follow the line of expectation of the visitors. Try to find out what questions they may have in their minds and answer them properly. All the doubts of the readers should be clear after going through the policy.
How to write a WooCommerce return and refund policy?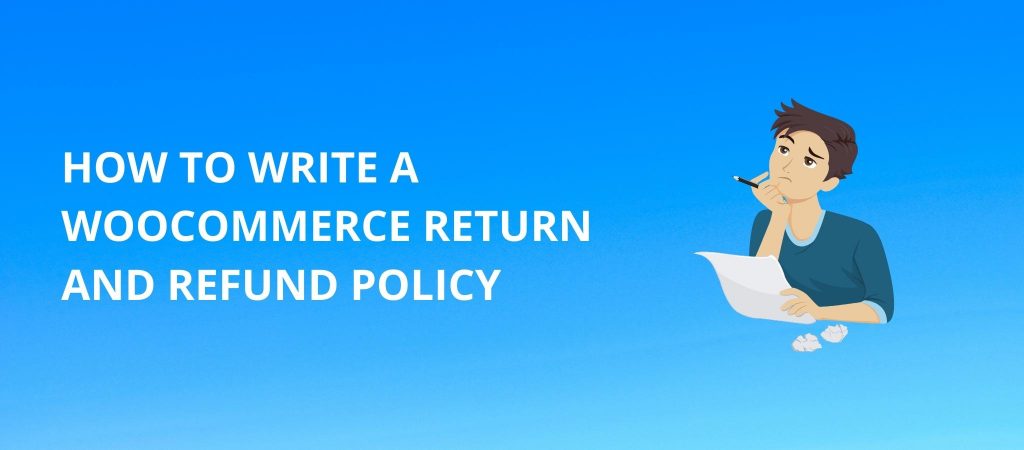 The statements in your WooCommerce return and refund policy should convey a clear message. There should not be any kind of confusion among the readers when they go through the policy.
Your refund policy must include the followings –
The number of days within which a customer can notify you for wanting to return the product after they bought it
What kind of return you'll give to the customer after the item is returned: another similar product, a store credit, etc.
How much refund will your customers get? Will it be full or partial? Will that be prorated by credits or time?
How will your customers make their return or refund request? What will be the process, email, raising tickets, or live chat? Or will that be automated?
Who will pay for the return shipping?
Easy way to create a WooCommerce refund and return policy with WP Legal Pages Pro

You can easily create a policy page using WP Legal Pages Pro. It is a refund policy generator WordPress plugin that comes with many professional lawyers drafted templates.
Just install and activate the plugin and you'll be able to generate 25+ legal pages with just a few clicks. It covers the refunds of products and services for eCommerce stores.
The plugin also covers the following –
Terms & conditions
Terms of service
Digital goods refunds
GDPR privacy policy
GDPR cookie policy
CCPA
Here is what a policy with WP Legal Pages looks like –
"If you are not happy with the purchase, you can return it within 30 days from the date of purchase. You'll get the refund of your money or another product of the same value, be it similar or not. But, when you return your purchase, the condition must not be deteriorated and carry the original packaging. The buyer should also produce the receipt. "
Where to add the WooCommerce return and refund policy on your website?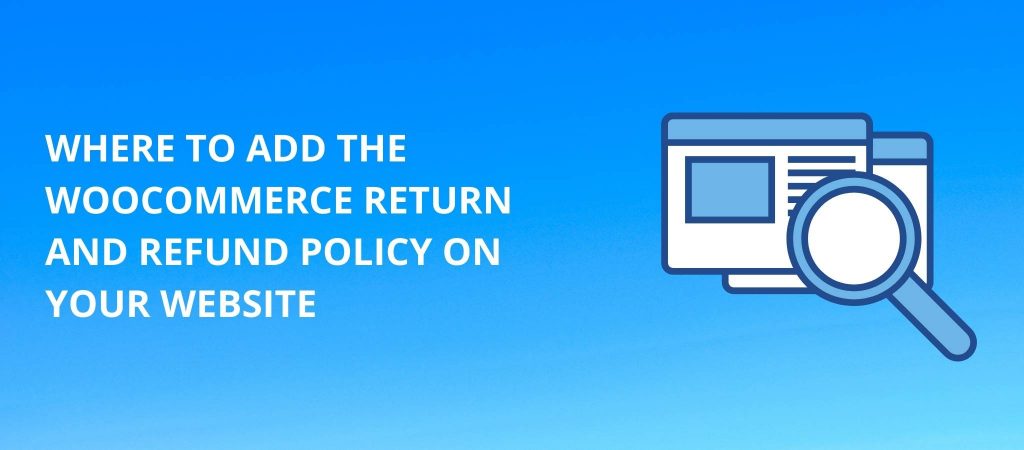 Adding a refund policy to your WordPress website is even simpler than you think. You can do it yourself within a few minutes. All you need to do is follow the steps below –
Head on to your WordPress dashboard
Add a new page there. Go to Pages – > New

Write your policy content to this page and set its title as "Returns & Refunds"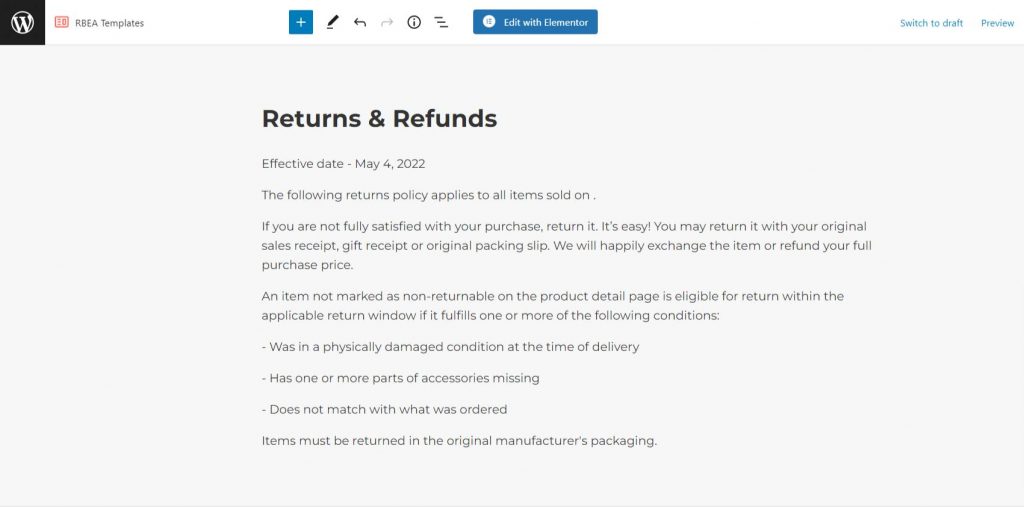 Now go to Appearance → Menus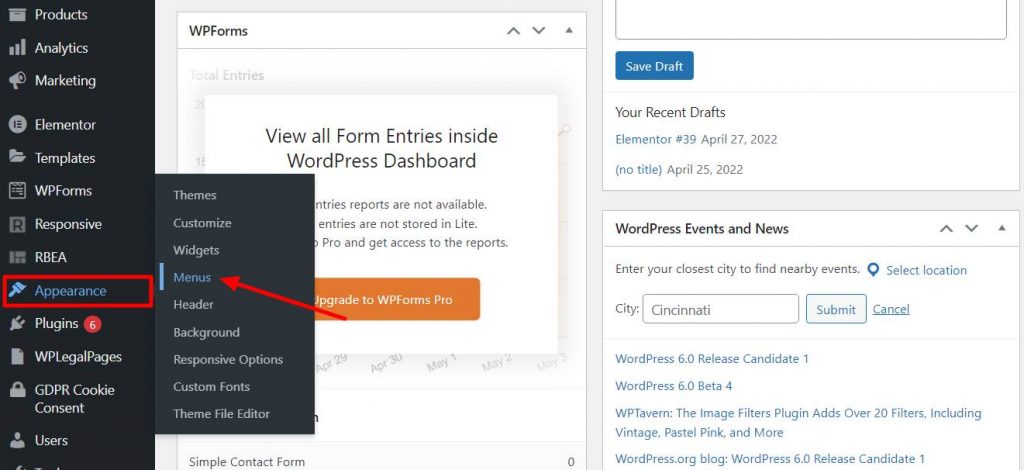 Add the page in the footer section of your site.

And you are done!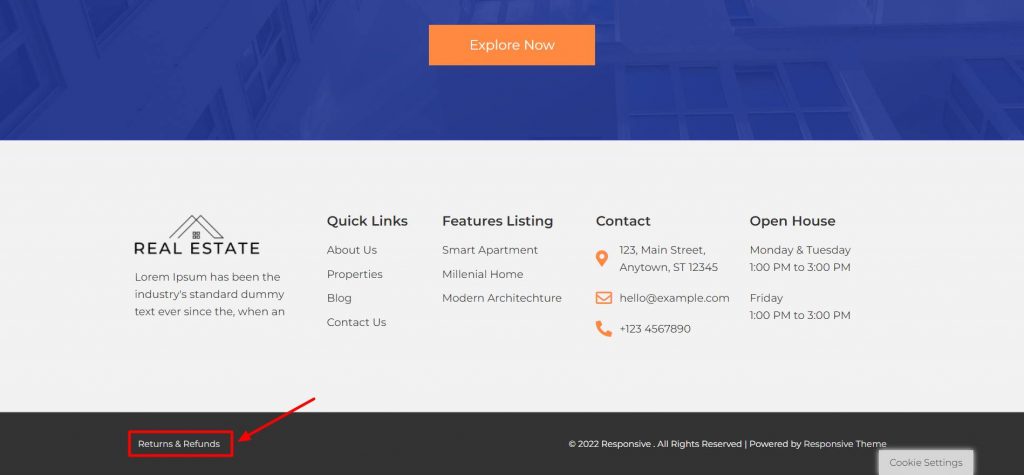 This is what it'll look like: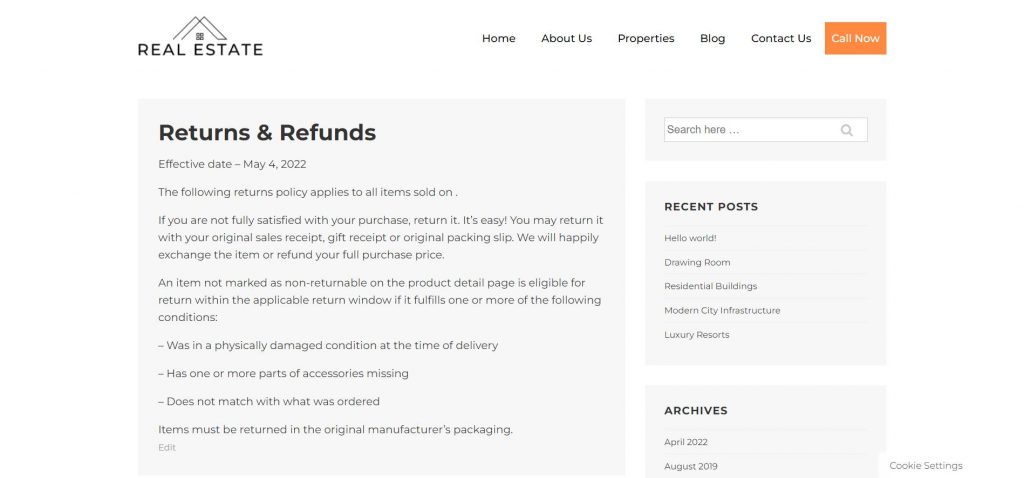 Conclusion
Hope we could give you some valuable insights into how to plan a WooCommerce return and refund policy. Follow the guidelines and within minutes you will be able to create a quality return and refund policy page on your website. Even if you don't have any coding knowledge, you can do it with just a few clicks. You can use Return & Refund​​ Policy Generator For WordPress Plugin – WP Legal Pages Pro if you want to generate one quickly and professionally.
If you liked the article, please share it with your friends on Twitter. It will motivate us to write more articles like this to help you. We would love to read your feedback in the comments section below. Also, let us know if you have any queries. We usually reply back to queries as quickly as possible.