How to create terms and conditions for online store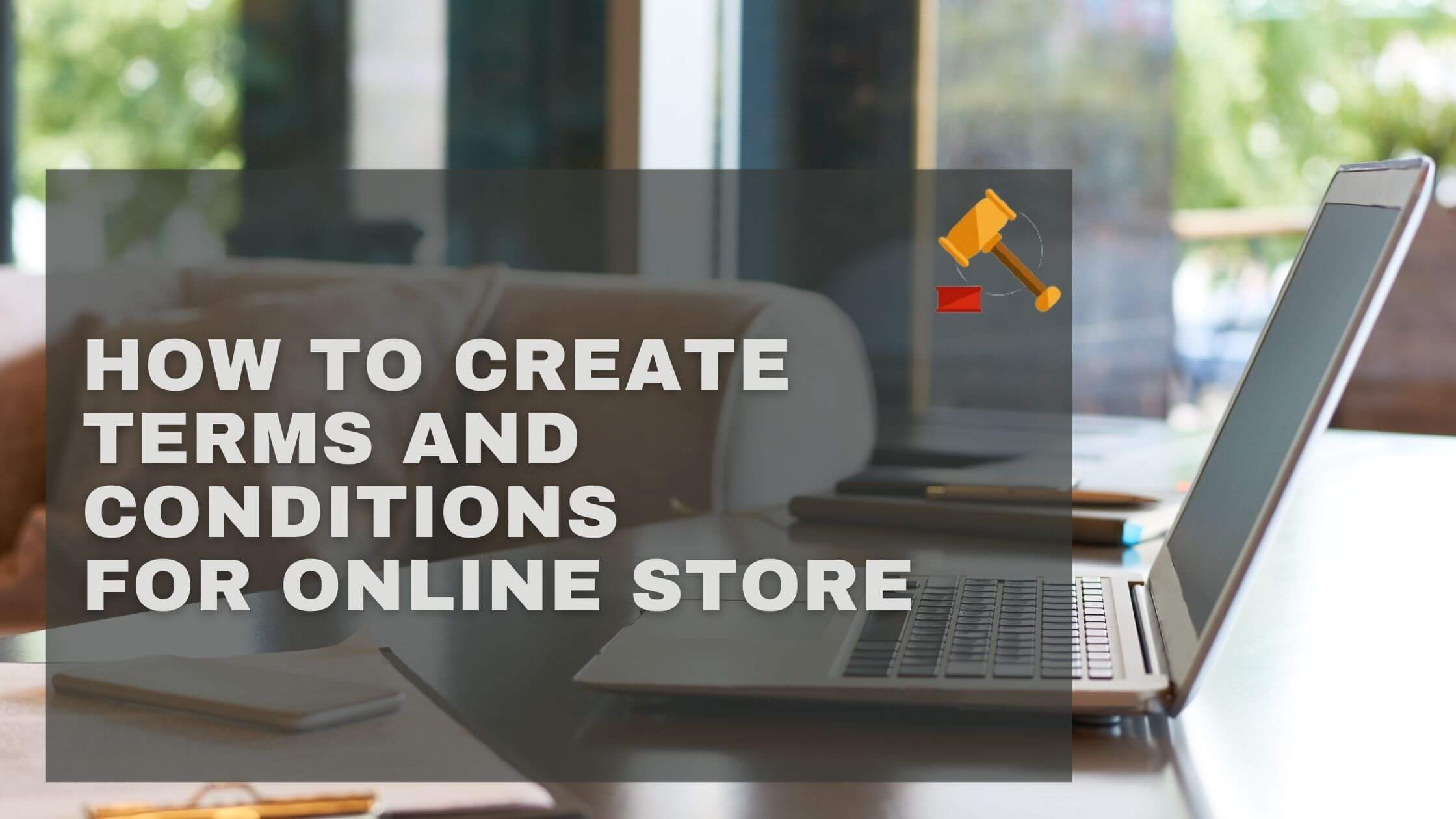 Also known as Terms, Terms of Service and Terms of Use, the Terms and Conditions agreement is a legally binding agreement that lets you protect the business and limit the liabilities. This is done by establishing the legal rights and restrictions in a written format.
This is a kind of agreement that lays out rules that you want your shoppers to adhere to if they wish to browse your online store or buy something from it. Since this agreement is enforceable legally, you and your customers can enforce the terms set up in the agreement.
Typically, a terms and conditions agreement is created to cover a variety of essential clauses or sections based on the business's nature. Thus, if you are running an online store, in this post, let's find out how to create terms and conditions agreement.
What Do Terms and Conditions Signify to the End User?
Although terms and conditions might not be needed by the law, it is still a smart decision to put one on the online store. The page can restrict your liability in case a customer drags you to court. In such a scenario, having the content of terms and conditions on the website can protect your rights.
Keeping in mind that the court will look into your site to comprehend the contractual terms between your customer and you, you must take this page seriously so as to hold it up in the court. The terms and conditions agreement can be considered as a legally binding contract that comprises all of the disclosures that you would need to prevent any misuse or abuse happening to your brand.
Such an agreement comprises guidelines for acceptable behaviour, rules against abusive users and other essential sections. In simple words, this agreement tells the users that you will not be liable for anything going bad when using the site. Typically, such kind of an agreement includes:
User responsibilities and rights
Notifications sent to users upon modifications and alterations in the agreement
Expected and precise use of the site and possible misuse
Limitation of liability and disclaimer that clarify the legal liability of the website for damages incurred by the user
Responsibility for online conduct, behaviour and actions
An opt-out policy that describes the procedure for the termination of the account
The outline of the privacy policy for the use of personal data
Payment details, such as subscription fees or membership fees
Need for Terms and Conditions for Online Store
Terms and Conditions Prevents Abuse
With the help of terms and conditions agreement, you can set the guidelines and rules that your users should agree to and follow to access your site. The agreement can include required sections to communicate the guidelines to the users. Moreover, it also states the consequences users can face in case of any misuse or abuse, such as spamming other users, attempting to hack or infect the site, posting derogatory content, and more.
Terms and Conditions Lets You Own Your Content
Being the owner of the website, only you have the right to the content, logo, website design, and other material. In the agreement, you can inform your users about the ownership and that your content is protected by international copyright laws. Such a clause is commonly known as the Intellectual Property Clause. This way, nobody will be able to use your material without permission.
Terms and Conditions Allows You to Terminate Accounts
Apart from allowing you the right to temporarily ban a user, having a Terms and Conditions agreement on the website also gives you the right to terminate an account completely. With this clause, you can communicate to your users that abusive accounts will not be entertained and will be completely banned from using the site. Generally, this clause is for websites that have a registration section. Thus, you can seamlessly ban or disable the abusive user on the basis of their account's activity.
Terms and Conditions Sets the Governing Law
Typically, the governing law clause is about the jurisdiction that is applied to the terms put up in the agreement. For example, if your online store is functioning in the United States, the governing law of your state will be mentioned in the clause. It would look something like this:
These terms and conditions are governed by the laws of the United States of America and the laws of the [State].
Terms and Conditions Limits Your Liability
Commonly, this agreement includes a warranty disclaimer that attempts at restricting the liability of the website owner in case an error is found in the content available on the website. This clause notifies your users that the owner is not responsible for any issues in the presented content or for the accuracy, suitability or completion of the information offered, irrespective of the purpose.
What to Include in Terms and Conditions for Online Stores?
When creating a terms and conditions agreement for the online store, jotted down below is a list of clauses that you must add:
Limitations & Liabilities
One of the most important reasons to have a terms and conditions agreement is to limit the liabilities and prevent customer litigation. With this clause, you can let the customers know that you and your business will not be responsible in case any issue regarding the liability comes up. These could be personal injury, delivery or service problems, death, defective items or products, fraudulent misrepresentation, and more.
Generally, the prices of products are always subjected to change. And, you should establish your right to change these prices in a dedicated Payments or Pricing clause. Other details of the customer transactions, such as discounts, refunds, returns, shipping, etc., should also be addressed in the clause to provide legal rights to handle the matters of the online store.
As the owner of the online store, you are likely to have unique designs, items, content and other proprietary rights that you would like to safeguard. This can be done with a precisely crafted clause that is dedicated only to Intellectual Property Rights. The terms and conditions agreement offers you a platform where you can declare everything that comes under intellectual property, the rules for using that information or items and the consequences of violating the intellectual property rights.
This is another important clause that should be available in your agreement. It defines the process to follow in the case of a dispute. Typically, the clause establishes the jurisdiction where the dispute will be taken to and the governing law that will be applied. Also, this clause is specifically important for those stores that serve a global audience.
Another clause to be added in the terms and conditions agreement is about Returns & Exchanges. Since you are running an eCommerce store, the queries related to the return or exchange of an item are bound to happen. Thus, with this clause, you can outline whether your store allows this service or not. And, if you do allow, then define the entire procedure for the same.
Lastly, a Cancellation clause is another vital part of the agreement. With this section, you can outline the process of cancelling the order. Along with that, you can also add extra information, such as the time period for cancellation, situations when cancellation is acceptable and unacceptable, etc.
Examples of Terms and Conditions Policy
Let's have a glance through some terms and conditions policy examples to get a better idea of the development:
American Eagle Outfitters: A Clothing Company
It is quite common for clothing brands to include a specific section on products and purchases. For instance, the terms of use by American Eagle Outfitters comprises a Product and Pricing Information section that talks about the process of purchasing, potential pricing, online payment methods and more.
If your online store lets users to give feedback, you would have to include a user submission clause to define the consequences and rules of submitting the content. The terms of use by Walmart talks about users who submit the content have to let the business take charge of editing, displaying and distributing the content.
Ways to Generate TnC for Your WordPress website
If you are looking forward to generating a terms and conditions agreement for your online store, WP Legal Pages is the perfect free tool that you can use. Trusted by more than 20,000 websites operating across the world, this plugin allows you to use pre-made templates and edit them according to your brand's information.
Although loaded with an array of features, one of the best parts about this plugin is that it supports a wide range of websites, including WooCommerce stores, EDD sites and other online stores.

How to Add TnC for Your eCommerce Store with WP Legal Pages
Setting up the WP Legal Pages plugin is nothing less than a cakewalk. On top of that, adding the terms and conditions agreement for the eCommerce store with the same plugin.
Steps to Create Terms and Conditions Document using WP Legal Pages
Once you have installed and activated the document, the next step is to create the terms and conditions document. Here is how you can do so:
Click on WPLegalPages from your WordPress dashboard
On the screen that appeared, check the box in front of By Using WPLegalPages, you accept the terms of use
Click Accept
Then, you will get two different options. Click on Configure Details to customize the plugin and Create Page to begin with the document
A new page will open up. On the right side, you will find Templates, choose Terms of Use
You can edit the information according to your brand and click Publish
Advantages of WPLegalPages vs. Making Your Own Document from Scratch
There is no denying the fact that you can create a terms and conditions agreement manually from scratch. So, what is the need for downloading an additional plugin when you already have plenty of them? Here are a few advantages that only a plugin can offer:
To begin with, you are getting a nearly perfect plugin without paying any high-end fee or burning your pocket. What could be better than that? By downloading the plugin for free, you can get access to an extensive range of useful features and pre-made templates.
To err is to a human! When you write a terms and conditions agreement on your own, errors and issues ought to happen. First of all, you cannot copy-paste the entire content from one website as long as you want to escape plagiarism issues. Thus, writing such a long, boring paragraph doesn't look like an exciting task at all. Thus, when you use a tool, there are fewer chances of committing mistakes and errors.
Attorney Level Researched Documents
One of the best things about using the tool is that you get attorney-level researched documents. The team behind WPLegalPages has invested a lot of time and effort to bring you templates that look well-researched, professional and up-to-the-mark.
Other Basic Policy Documents
Apart from the terms and conditions agreement, you can also find plenty of other basic policy documents, including privacy policy, Facebook policy, cookie policy, Amazon affiliate disclosure, affiliate agreement policy, and more.
The fact that the free version of this plugin has more than 10,000 active installations is enough to talk about its integrity and credibility. The plugin has a lot of users and has got a variety of 5-star reviews as well.
Wrapping Up
While the law is not forcing you to publish terms and conditions agreement on your online store, it is always recommended to keep your brand safe during the times when things don't go as per the planning. So, now that you are ready to come up with a TnC agreement, use WPLegalPages. You can download the free version if you wish to experiment around or can download the pro plugin if you are looking for additional features.