Create a WordPress Amazon affiliate Privacy Policy in Minutes!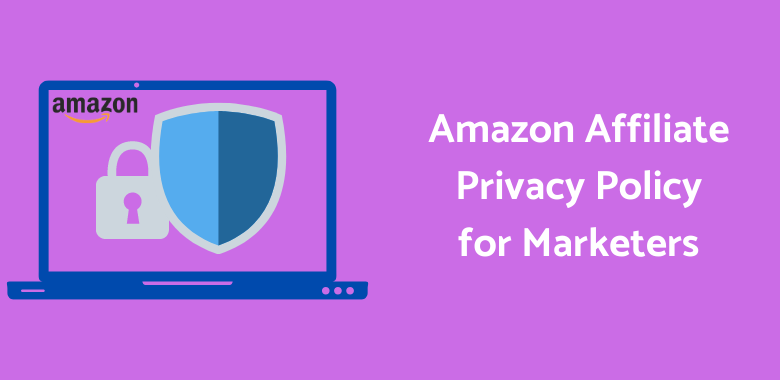 Are you selling any products on your WordPress site or do you promote 3rd party content? Are you an affiliate marketer? Did you know that there are legal guidelines for promoting products and services online if you're going to make money out of it? Do you want to create a WordPress Amazon affiliate privacy policy in minutes?
The online consumer guidelines by the Federal Trade Commission (FTC) were introduced to regulate how website owners run ads on their sites. The guidelines require any business promoting anything on its site for profit to follow certain principles of the disclosure to prevent prosecution.
The guidelines have been put in place not to limit you from making money but to protect online consumers. You risk being sued if you don't comply with these guidelines. If you partner with any Ad Networks or Affiliate vendors such as Amazon you're required by law to have a disclaimer indicating that you're an affiliate marketer or if your content is sponsored.
Amazon Associates is one of the most popular online affiliate marketing programs that allow people to earn money through referrals by adding product links for sale on Amazon.com on their own websites.
If you're an Amazon affiliate marketer the FTC requires that you have an Amazon affiliate privacy policy generator and amazon affiliate disclaimer disclosing that you use Amazon referral links and more so if you collect personal information from your web users through web forms, email newsletters etc. The Amazon affiliate disclosure policy lets your users know that you will earn a commission from the affiliate link if any sales happen.
When you have a loyal following they put their trust on you and anything that you promote on your site. They believe that you will recommend products and services that are authentic and of high quality. If you are promoting 3rd party content on your website and making money from it, it's important that you let your followers know so, they'd definitely want to know.
If you don't disclose this kind of information you will not only lose your followers' trust but also set yourself up for a lawsuit. By disclosing that you are not the owner of the content you're promoting, you allow your web users to seek more information before making the purchase based on your recommendation.
If you do not comply with the disclaimer requirements you can get penalized. Penalties range from a written warning to the maximum of an $11,000 civil fine for every incident. If you plan or are doing any type of online selling, it's therefore, best not to take any chances. Even if you don't operate your business in the U.S. stay safe and protect your business by ensuring you comply with all FTC guidelines. If you're not sure how to go about it, you can find numerous resources online with guidelines and disclaimer/disclosure templates to help you comply with FTC requirements.
Guidelines by the FTC
The FTC provides a guide providing marketing and social media advertising best practices and requirements. One of these requirements is that you must have a disclaimer such as an amazon affiliate disclaimer whenever you use affiliate links on your website.
FTC requires that this disclaimer:
Disclose your relationship to Amazon
FTC requires that you make it known to every reader on your site, through your amazon affiliate disclaimer, that you are using affiliate links and getting paid whenever a user clicks on your links.
You are not allowed to assume that everyone knows what an "affiliate link" is so you must make it clear to your readers. Simply saying "This link is an affiliate link" is not enough. You are required to give more details about what the link is all about, and what happens when a user clicks on such a link.
Be placed conspicuously on your site
You need to place your affiliate disclaimer in a place where every web visitor sees it clearly and immediately. Placing it on your About Us page or at the bottom of your homepage where users are unlikely to scroll down to is not adequate. It needs to be somewhere that a user can easily notice and read the disclaimer. We recommend placing it right before, next or below the affiliate link.
Does Your Website Have a Privacy Policy?

A privacy policy is a legal statement that notifies your web visitors that their personal data such as email addresses, names, postcodes and so on will be collected, used, and protected as they interact with your website. Many affiliate programs will require that you have a privacy policy. Amazon requires an Amazon affiliate privacy policy if you want to join the affiliate program. A privacy policy is important because it also helps you build trust with your web users.
If you suspect that you might not be compliant, you can add the following pages in addition to the privacy policy and the disclaimer pages:
About Us Page
Contact Page
Privacy Statement
Terms & Conditions
These pages will ensure that you stay out of trouble with most external providers and regulatory agencies.
Adding Amazon affiliate disclaimer, Amazon affiliate privacy policy and other legal pages on your website can be a very daunting task. However, thanks to various plugins you can easily add this pages without the need of the help of a legal professional.
Best Seller – Legal Pages Plugins that you should consider using to add your disclaimer and privacy policy pages:
WPLegalPages is one of the most popular and powerful WordPress Privacy Policy generators that you can use for your WordPress site. The plugin comes with a host of Legal policies for your site such as Affiliate Disclosure, Agree to Terms and Conditions, and much more.
The plugin has 23 ready-to-use legal and lawyer approved templates that you can use to generate legal pages for your WordPress site. The plugin is easy to install and use. With the WP LegalPages plugin, you can add legal pages to your website in just 2 minutes! This plugin includes all the most-used legal pages.
The plugin also allows you to create custom legal pages if you don't want to use the existing templates to fit your website's needs. You can also easily add the latest EU Cookie Law to your site using the plugin.
The ready to use templates make it easy for you to get started. All you need to do is add your business information to the templates and just publish them. Yes, it's that easy. You'll have your legal pages up in minutes!
The plugin comes with a force feature that forces your web visitors to agree to your Terms and Conditions, Privacy Policy or any other legal page that you want them to. This feature allows you to help you to lock down any features on your site for improved privacy. You can apply this feature to both your WordPress pages and posts.
Another beautiful feature that this plugin offers is the one-click affiliate disclosure addition feature. Now, this is the feature that every Amazon affiliate marketer will love. You can use it to quickly add an Amazon affiliate disclaimer and Amazon affiliate privacy policy on your site on any post or page. This will help you stay compliant with FTC guidelines requiring you to have an affiliate disclosure whenever you add any affiliate links in your content. Add an affiliate disclosure by checking the affiliate disclosure option on WP LegalPages editor page.
The easy to use admin dashboard enables you to easily create legal pages. The pages created will then show up in the page listings and you can easily them from here just as you would edit other WordPress pages.
Final Word…
If you are involved in any type of business online, whether as an influencer, affiliate marketer or advertiser it's important that you ensure that your website stays compliant with all the necessary regulations and the guidelines. Chances are that you were not aware of some of these regulations so we hope this article helped you. Now over to you. Don't risk your money and reputation, make use of the above plugins a stay compliant!