Guide to writing a Facebook Impressum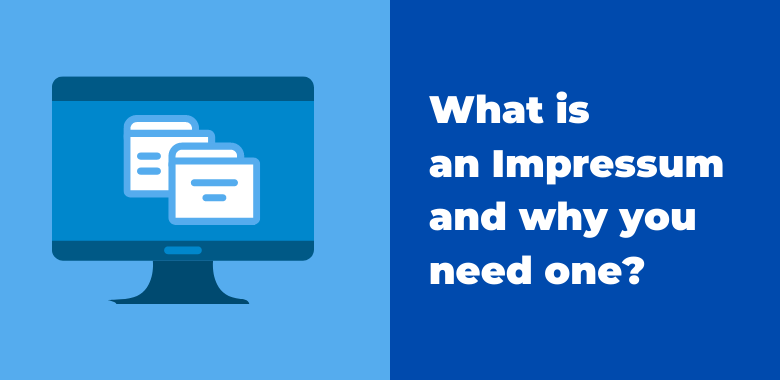 If you're running a Facebook page, you'd be familiar with the word 'Impressum.' If this word confuses you and you're unable to figure out its meaning, in this post, let's find out everything necessary about Facebook Impressum.
What Is Impressum?
Although it is a Latin word adopted in German, Impressum can be used to describe varying meanings, including:
Statement of Ownership
Legal Notice
Legal Disclosure
Credits
Imprint.
In English, the closest equivalents to this word include:
About us page
Masthead
Imprint
Legal notice
Basically, it is a fancier word used as an alternative to Terms of Conditions (TOS) and About Us pages. So, putting it in simple words, an Impressum is a statement that includes facts about a business.
In an easier way, you can consider it more like a formal About Us page of the company. Basically, it comprises information about the ownership, contact details and business address.
In German-speaking countries, an Impressum is legally required to be published online as well as in print media, such as magazines, newspapers, and books. If your business has an online presence, the availability of Impressum will simply mean disclosing the ownership of the business and contact information to customers.
As far as English-speaking countries are concerned, this term doesn't have any legislation. However, there are similar publication terms and laws that are used to regard the authorship/owner disclosure.
Why Do I Need an Impressum?
As per the German Telemedia Act, an Impressum is needed if you are operating a commercial website, including business social media pages in Switzerland, Austria or Germany, irrespective of the domain you have.
Moreover, you'd also need an Impressum if you're doing significant business with people residing in any of these countries. However, if you are running private pages, like personal blogs, and more that don't generate an income, you wouldn't need an Impressum.
What Should I Write in an Impressum?
As per the Telemedia Act, you must add the following details while writing an Impressum:
Name of the owner or the manager of the business or page
Address of the registered business
Contact information, such as email address, phone number
Information regarding business registration, such as registered name and registration number
VAT ID number or the trade registry number (if available)
What is the Difference Between an Impressum and a Privacy Policy?
When it comes to evaluating the difference between an Impressum and a privacy policy, you're sure to find a huge one. While the former is simply a list of information that represents your business; on the contrary, the latter is an essential document that outlines why and how your business is engaged in collecting, using and sharing personal information of customers.
An Impressum is lawful only in Switzerland, Austria and Germany; however, a privacy policy is needed almost everywhere in the world. Also, different countries have varying privacy policy laws.
For instance, if your business is serving in the UK or the EU, you'd have to comply with the General Data Protection Regulation (GDPR). Other than that, if you're operating a business in California, you'd have to adhere to the California Online Privacy Protection Act (CalOPPA).
Although a privacy policy carries some of the similar information as Impressum; however, it's one extensive document as compared to the other.
What is Facebook Impressum?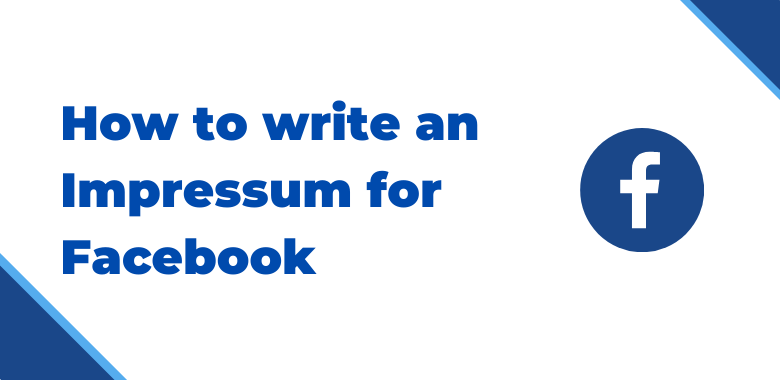 Almost more than half of the businesses, today, have a website and social media pages, Facebook being one of them. Thus, to comply with the law, Facebook added one feature that enables users to create their Impressum on a public page in order to help businesses in German-speaking nations to adhere to the law.
On Facebook, an Impressum is a section available on the About page that showcases the legal identification numbers and contact information of a business. Here, you can put nothing more than 2,000 characters.
After this, the text will be shortened and a link will be added to complete Impressum. Further, the Pages, Groups, and Event Policies of Facebook has made it necessary for administrators to obey all of the applicable regulations and rules.
Thus, if your business is subjected to the Telemedia Act, you'll have to add an Impressum on your business's Facebook page.
What to Include in Your Facebook Page Impressum?
Upon visiting your Facebook page, users would be able to see the Impressum information when they'll click on the About link. Considering the restrictions in word count, you will only have to provide minimal information. On Facebook, your Impressum section should contain the following information:
Name of the organization or business
Address of the organization or business
Contact information; email, fax number, phone number, of the organization or business
Name of the manager or owner of the page as well as of the organization or business
Registration and license numbers
Links to the official website
Whether the business is a part of a regulated profession
Details of relevant professional rules, designation and chamber
VAT ID number or business ID number (if available)
How to Add Impressum To Your Facebook Page?
Adding Impressum to the Facebook page is quite a seamless and hassle-free process. You'd neither require any tools or in-depth technical knowledge for the same. Simply follow the below-mentioned steps, and you'll be done before you realize.
In the left menu, from the News Feed, click Pages
Now, choose the page where you wish to add the Impressum and click on it
Click Edit Page Info option
Look for the Impressum section and add the information
Click Save Changes
And it's done!
Some Impressum Examples
BMW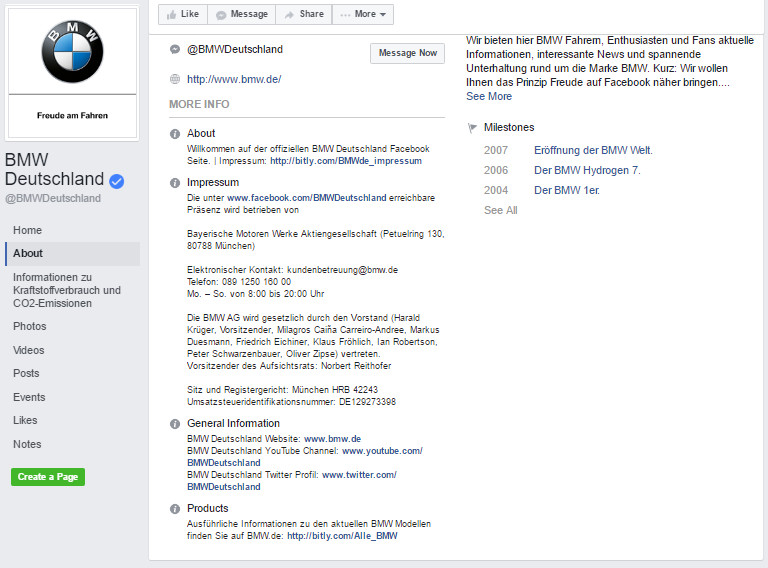 Allianz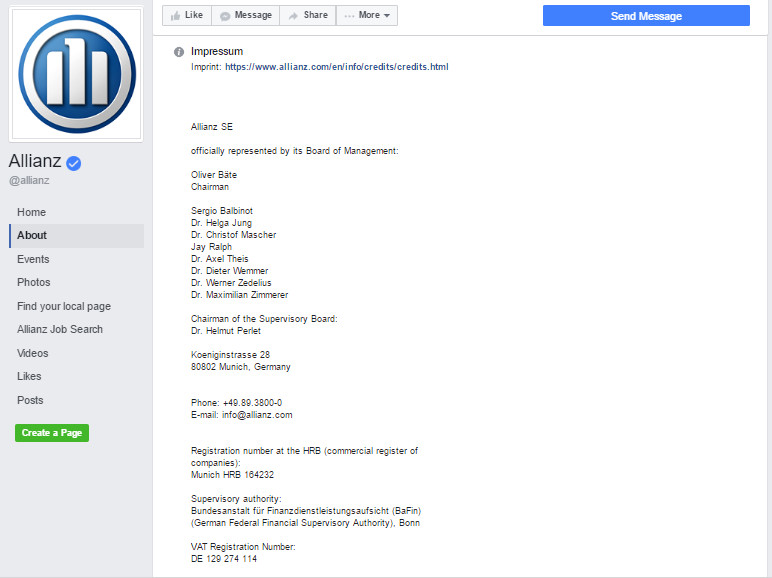 Audi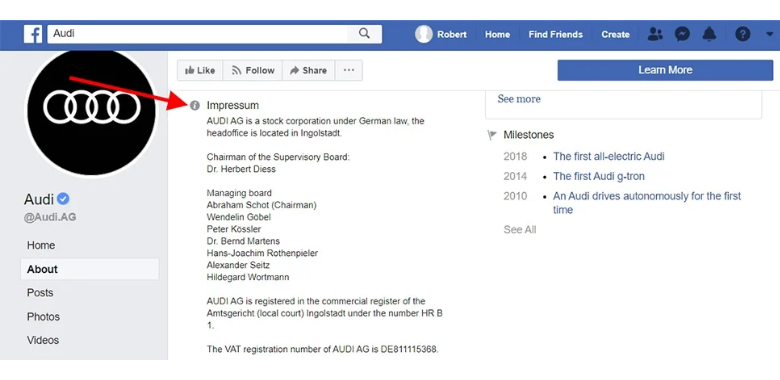 The Need for Impressum: Summary 
To summarize the need for Impressum, it wouldn't be an overstatement if said that not having an Impressum may leave you in legal troubles if you're operating your business in the German-speaking countries.
Keeping in mind that the law has asked you to add an Impressum, make sure you don't neglect this factor. If you haven't added an Impressum on Facebook yet, follow the above-mentioned details, craft an Impressum and add the same to your business page by following the steps mentioned above.
Also, even if your business isn't operating in any of the three countries, as stated in this post, adding an Impressum wouldn't harm you in any way. Rather, it'll just help your users acquire some additional information about your brand.
Impressum FAQs
1. Do I need to write an Impressum on Facebook?
If your business is operating in any of the German-speaking countries, especially in Austria, Switzerland and Germany, you'd need to add an Impressum on Facebook.
2. Is Impressum same as privacy policy?
No, Impressum and privacy policy are two different things. While privacy policy may contain some of the information that is also available in Impressum, however, it's an extensive and lengthier document than the other.
3. Do I need to hire somebody to create an Impressum on Facebook?
No, you wouldn't need to hire anybody, and you can do so yourself. Simply follow the steps mentioned in this post, and you'll be able to add an Impressum on your Facebook page within a few seconds.
4. How can I remove the Impressum from my Facebook page?
To remove the Impressum from your Facebook page, go to Settings on the page. Then, scroll down and click on Edit for Impressum option. If you wish to delete everything, simply erase the content and click Save Changes.
WP Legal Pages Pro Plugin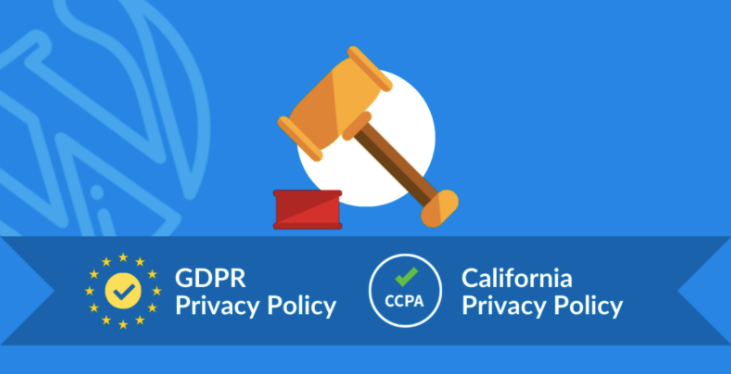 For somebody who is new to the world of online business, creating privacy policies and other similar pages can be quite a hassle. To avert such an issue, here is one of the most recommended plugins – WP Legal Pages – that brings a variety of templates to be customized and posted on the website.
With this plugin, you get up to 30 customizable templates, like:
Terms of Use
Affiliate Disclosure Template
Linking Policy Template
Refund Policy Template
External Links Policy Template
Terms and Conditions Template
Privacy Policy Template
Earnings Disclaimer Template
Cookies Policy Template
Facebook Privacy Policy Template
Affiliate Agreement Template
Antispam Template
Medical Disclaimer Template
Double Dart Cookie Template
FTC Statement Template
Disclaimer Template
Testimonials Disclosure Template
Digital Goods Refund Policy Template
Amazon Affiliate Disclosure Template
California Privacy Rights Template
DMCA Policy Template
Children's Online Privacy Policy Template (COPPA)
Newsletter Subscription and Disclaimer Template
Blog Comments Policy Template
About Us Template
Return and Refund Policy Template
GDPR Cookie Policy Template
California Consumer Privacy Act Template (CCPA)
GDPR Privacy Policy Template
Confidentiality Disclosure Template
Installing and Activating the Plugin
Installing and activating WP Legal Pages plugin is quite a quick and instant task. It's as simple as installing other plugins on your website. To install, you'd have to buy or free install the plugin from WordPress.org. You'll then get to download a zip file. Next, follow these steps to activate the plugin
Open your WordPress admin dashboard
On the left side, click Plugins
Choose Add New option
Now, click on Upload Plugin option
Upload the downloaded zip file
Click Install Now option and activate the plugin
Your plugin is now up and running. However, before you move ahead to use this plugin, you'd have to accept the disclaimer that will display on your screen. Once accepted, you'll be redirected to General Settings where you can customize the plugin as per your preference.
Creating a Legal Template with WP Legal Plugin
Now that you've understood the benefits that this plugin is capable of providing, creating a template or customizing a pre-made one will be a seamless process. To do so, follow these steps:
Go to Create Page option
Choose the type of website that you are operating
On the right side of the dashboard, you will get to see a list of templates. select the template type that you wish to add to the site
A new page will open up where you can see the content of the template
There, you can edit and customize according to the requirements
Once done, Publish the page, and it will be displayed on your WordPress website.