What Is A Website Disclaimer? Everything You Need To Know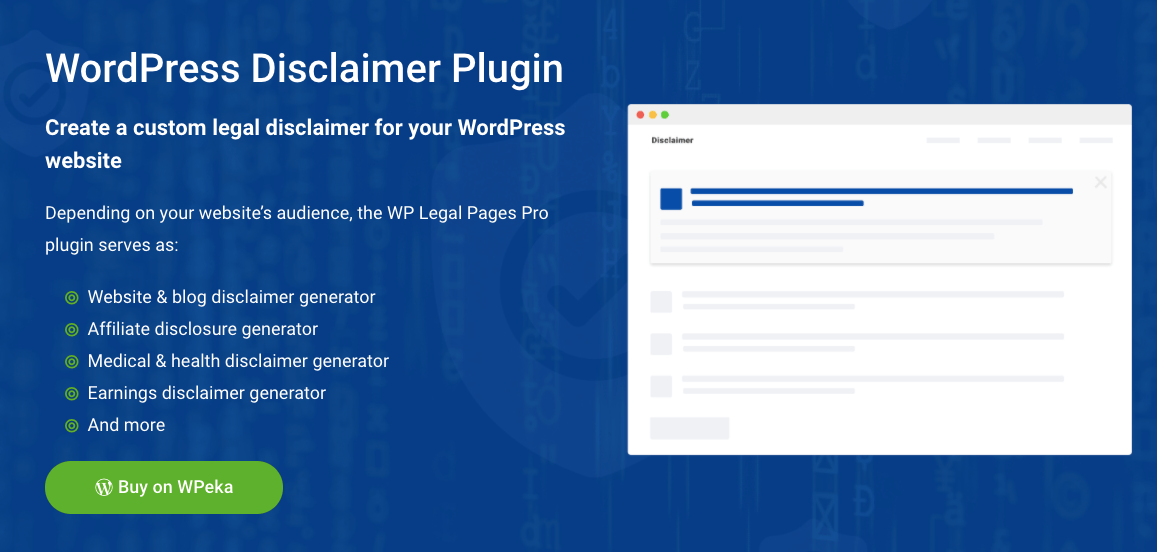 A disclaimer is an essential need for a website irrespective of its contents. It protects the sites from many legal issues. The moment you publish a disclaimer, automatically your safety is increase. But most of the people are not clear about what is a website disclaimer and how to create it. In this article, we will discuss in details what is a website disclaimer and give you some important tips about how to add a legal disclaimer to your WordPress website.
What is a website disclaimer?
A disclaimer simply means a statement of denial about something. Especially responsibility. A website disclaimer is a formal notice o the visitors. It clarifies, that the site is not responsible for any damages causing by the use of the site content.
What is an example of a disclaimer?
Here we are giving some good website disclaimer samples which you can refer to while creating your disclaimer –
No responsibility or limited liability disclaimer
Here is an example of from Twitter
Use at your own risk disclaimer
The following example is from Miss Mary
Errors and omissions disclaimer
The example given here is from PWC
Views expressed disclaimer
The following example is from Fox News
What should a disclaimer include?
Following are the things a website disclaimer must include –
Details about the owner of the website
Reference to the website
What liabilities the website owner accepts or does not accept
The policy of the website owner towards the third party links
What are the types of disclaimer?
Here are some popular types of website disclaimers –
Limited liability disclaimer
Limited liability disclaimer is the most common type of disclaimer that we find in almost every website today. It states that the website will not be responsible for any damage caused by the direct or indirect use of the information provided on the website.
Views expressed disclaimer
A views expressed disclaimer typically states that the website does not take any responsibility for the views or opinions published on the site. It is useful for sites that publish guest articles or blogs. If you let your user give their reactions in the form of comment or feedback on your site, you should go for views expressed disclaimer.
At your own risk disclaimer
The website that gives advice or instruction on different subjects generally goes for at your own risk disclaimers. This type of disclaimer either states that the person giving the advice is not an authority in the field. The advice is simply as a guidance or the techniques mentioned in the articles need cosultation from experts.
Errors and omission disclaimers
We can find Errors and omissions disclaimers are usually on technical websites. It protects the sites from costly errors and omissions lawsuits. Users will know about liability for any damage caused by any error or omission. It offers protection to websites w.r.t. damage in the material or content of the website.
The most common type of website disclaimer generally states the reponsibility of the website owners. It mentions responsibility for any kind of problem caused out of use, a reference. Business owners get clear protection by publishing such information published on the website.
How to write a disclaimer?
Here are the steps you need to follow to write an effective website disclaimer –
Identify the type of disclaimers you need
The first step towards creating a disclaimer is always to find out why you need it. The type of disclaimer you need always depends on what kind of website you have. For example, if you own a medical website, you should go for medical disclaimer. If you are a product reviewer, you may have to go for use at your risk disclaimer.
Mention business related liability
Websites must mention the liabilities relating to the business. For instance, if you are a beauty expert and share beauty advice on your blogs, you may face trouble if any of your advice cause any skin problems to your readers. In this case, you have to state it clearly that you don't take any responsibility for any damage caused by your tips.
Find out the rights you want to protect
Once you are clear about the issues you may face and types of disclaimers you should have, know about the rights you want to protect. For example, if you are a musician and publish your own compositions, you have to go for copyright to protect these intellectual properties.
Limit responsibility for third parties
Clearly mention posibility of return or refund in case you mention third party products. In case, you refer to any third party website, state clearly about posibility of refund or exchange. If you are using any third-party service, for example, shipping in case you run an online shop. Do state clearly about the responsibility in case of inconvenience caused by the service.
After you get clear about what are the points you need to add to your disclaimer. Keep in mind the following tips to make your disclaimer affective –
Know your target group
Your disclaimer should always be target-specific. Know about their expectations, what do they want to hear from you and then accordingly frame your disclaimer.you should also be clear about what kind of legal issues your customers may raise. Your disclaimer should address all those issues either directly or indirectly.
Keep it short and simple
Nobody likes to read a lengthy legal document. Though the purpose of a disclaimer is your safety, your visitors should read it. They will feel like going through the details only if you write a to the point disclaimer in simple and easy language. Try to keep it short. It will save your space as well.
Define terms and conditions
Clearly meaning all the terms and conditions is important. You should clearly state for what you take responsibility and for what you don't. There should not be any ambiguity. Otherwise, you may face trouble.
How does WP Legal Pages Pro help in adding website disclaimer to your WordPress site?
WP Legal Pages Pro is a WordPress plugin that helps you to create legal documents for your website with a few clicks. It offers you tons of premade legal templates. You just have to select a template based on your needs, add your details and publish it.
WP Legal Pages Pro also serves as a Website disclaimer generator for WordPress. You may create many different disclaimers with this plugin on your own depending on your purpose. The pre-designed templates are so rich and useful that you will not need to consult any lawyers for making disclaimers. All you have to do is select an appropriate disclaimer page.
Following are the major disclaimer pages that WP Legal Pages Pro offers –
1. Website & blog disclaimer
If you review third party products or give advises about how to do things on your website or blog, you definitely need a disclaimer. Because this type of contents creates lots of liabilities. You may be answerable for many things to your readers if you don't have a proper and well-defined website disclaimer.
The types of disclaimers you need in case of a blog are –
Liability disclaimer
Disclaimer about the completeness, accuracy and reliability of the content
Disclaimers about the third-party websites that you link with or the sites whose products you write about
2. Affiliate disclosure
An affiliate disclosure is a legal requirement in many countries if you promote third party products on your site and take part in affiliate programmes.
As per the guidelines of The Federal Trade Commission or FTC, it is mandatory for a website owner to disclose any affiliate endorsements with proper disclosure. failure to do so may attract penalties up to $ 11,000.
Affiliate vendors also need to publish a proper affiliate disclosure on their site. Failure to do so may result in permanent removal from an affiliate programme.
3. Medical & health disclaimer
A medical disclaimer generally states that you are not responsible for whatever may happen if your readers use the information on your website without consulting a doctor. In simple words, it is an agreement that clearly mentions that your site content does not replace any doctor's advice.
A medical disclaimer is essential for medical websites. No matter whether you are a doctor or a health adviser or you run a health clinic, it saves you from any unwanted hazards.
You should have health disclaimer on your site if you publish blogs related t health, wellness and fitness. Colsult an expert to create a health disclaimer which states specific things in the field.
4. Earning disclaimers
Websites require earning disclaimer to assist earnings throgh web presence.
This type of websites usually run online shops, promote products or services or conduct online educational programmes.
An earning disclaimer usually refutes income guarantee of the above-mentioned programmes.
In the USA, The Federal Trade Commission makes it mandatory to publish an earning disclaimer for the sites that promote such programmes.
Conclusion
With WP Legal Pages Pro at hand, creating a legal disclaimer is a matter of just a few minutes. Install and activate the plugin and stay relaxed. The disclaimers it generates will protect you from any legal issue that may arise in relation to your site contents.
If you liked the article, don't forget to share it on Facebook and Twitter. Leave your feedback on the comment section. If you have any question, please let us know. We will get back to you soon. Follow our YouTube channel for video tutorials.