How to create terms of use policy for the website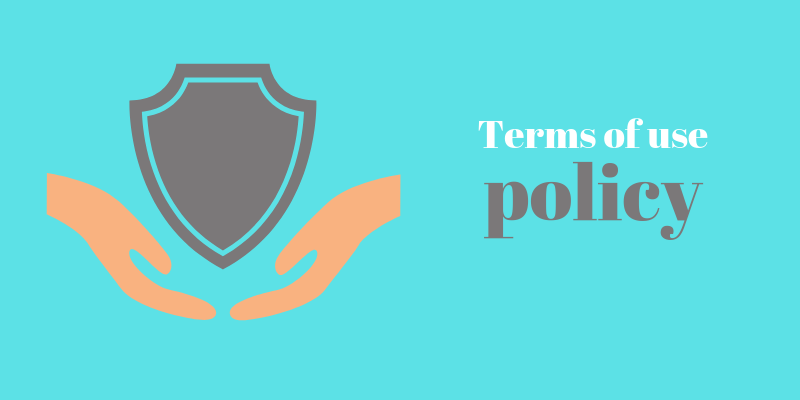 Having terms of use policy on the website is not just essential from the standpoint of law and rules. However, it can fetch you several other advantages as well.
Moreover, considering how Google ranks quality and trusted websites higher in search results. Displaying this page on the site can help you demonstrate the credibility of this well-acknowledged search engine.
Although the search engine optimization rules continue to change with a tweak in the algorithm, However, including this page on the website would surely not hurt any of your technique.
Also, it's also quite mandatory to have this policy if your site is interacting with users. And, be it through selling products or providing advice on a particular topic.
This post defines the actual meaning of it and how you can create this policy page for your website.
What Is Terms of Use Policy?
Also known as Terms & Conditions, this policy page effectively creates a contract between your website and its users by letting them know what their responsibilities and restrictions are. Often, it comprises a brief explanation of key terms that you might have used while curating the legal limitations for the target audience.
Moreover, it also outlines the responsibilities that you might or might not take upon yourself in case your users come across any damage or harm while using the website. And then, it is also used to let users know about the actions that would be taken against them if they break the rules set by you.
Who Needs Terms & Conditions?
In comparison with the privacy policy, having a terms and conditions page isn't a mandatory option by the law. However, it's still recommended that your website contains one as it can help develop the legal foundation between your website and users.
In case there arises a legal dispute, whether you are suing someone or a user making a claim against your business, the court might refer to the terms & conditions to assess the credibility of the complaint. Owing to this reason, it's essential for every kind of website to feature this page, irrespective of the type and domain.
Things to Consider Before Creating the Policy:
Before you begin the procedure of writing a terms & conditions policy for your website, you must understand the reasons behind having one and the goals that you would want to accomplish through it. Otherwise, it won't be of any use to create an extensive agreement.
So, while pondering upon this thought, think about the following points:
Understanding the Reasons:
With the help of this policy, you can prevent your users from abusing your products or services, establish ownership in your content, trademarks, copyright, and other intellectual property; and can also limit the responsibility.
At the least, if you aren't addressing these reasons in the agreement, you may end up limiting the legal powers and claims that you could make against users. Keeping this reason in mind will help you stay focused.
Most likely, you would have already set up specific rules for your website. For instance, if your website allows users to share videos or images, you may have prohibited the exchange and upload of sexually explicit content.
And then, there might be a set age limit for your target audience. There are certain such websites as well that require subscription fees or any sort of payment. So, basically, these are the kinds of ground rules that you should mention in your policy.
Likewise, create a list of similar rules and limits for your users and add them into the policy whenever you begin drafting it.
Terms of use policy is something that should be posted in a noticeable location on the website. Also, you must make sure that this policy page can be easily accessed through links posted on almost every web page and some other places, like:
User forums
Website footers
FAQ pages
If your website asks users to sign up, you must mention the acceptance of Terms of Conditions before they can complete the account setting.
Creating Terms & Conditions Policy Page:
Once you've understood the reasons and outlined the priorities for writing this agreement, it's time to begin with the first draft. When you've reached this phase, there are certain sections that you must cautiously consider. Some of them as mentioned below:
All of the efforts that you'd have invested in creating a terms & conditions policy page can be wasted instantly if your users aren't accepting it. To avert this situation, there are several websites that let users sign up for the agreement while creating an account or logging into one.
You can also do the same by adding an "I agree" checkbox on your landing page or any area where it will fit perfectly. Consider this example from TripAdvisor. While creating an account, they also ask their users to agree with their terms and conditions.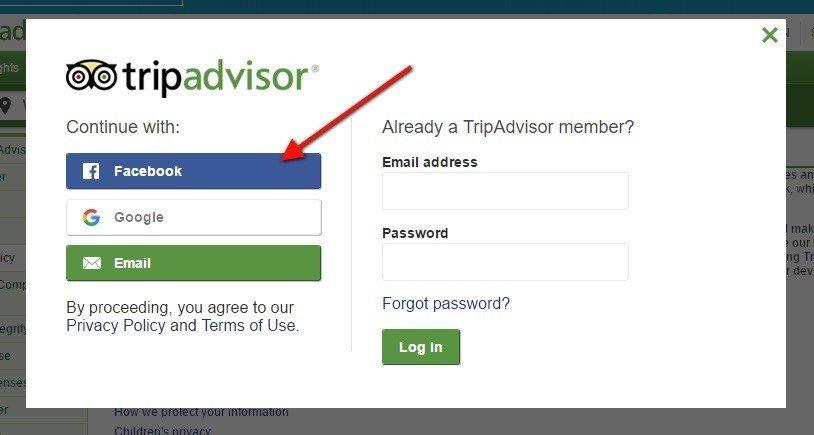 However, this technique majorly works for such websites that have a registration process. So, what about the ones who don't allow any account registrations on the site? For those, a simple statement in the introduction area, stating that "Using the services will comprise the acceptance of our Terms & Conditions" can work wonderfully.
Look at the example of Pinterest following a similar approach:

Limiting the Liabilities:
If not out-of-the-box, you may at least want to set general liabilities. Without the existence of them, your users may pursue such damages that may lead to the complete shutdown of your website. Even if you don't look forward to any issues, it's often the unexpected things that push the business into troubles.
Basically, you should be clearing out the air for your users that you aren't going to be responsible for any damage or loss that may arise after using your services or third-party products listed on your website. Not just that, but it's also wise to communicate the risk that may occur while using the site, even though the possibility is meek.
Look at how ZenDesk has emphasized such limitations by letting their potential customers know in the capital letters.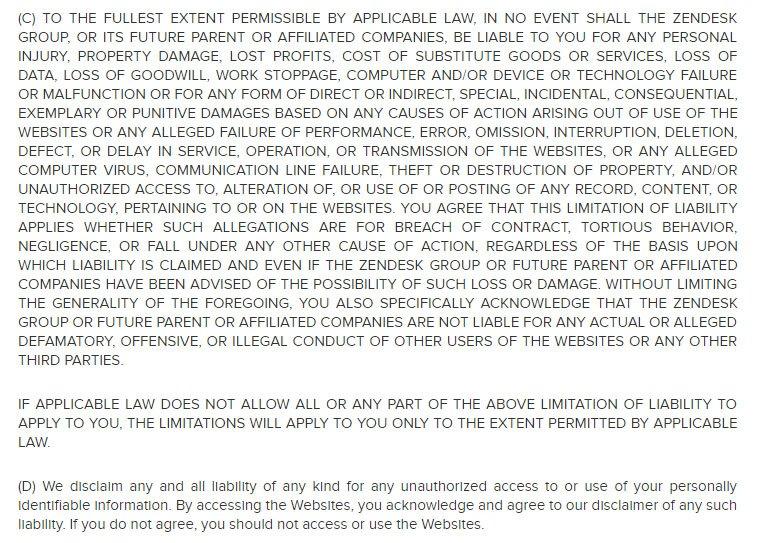 Rights to Intellectual Property:
If users are accessing your website, they'll be accessing your intellectual property as well. This would include copyrighted material, trademarks, proprietary algorithms, and several other elements that make your website completely yours.
Using this intellectual property without taking the permission or your acknowledgment is a severe breach that comes under actionable law. If somebody does this, you can pursue a violation claim and also dismiss the user from accessing your website.

Advertisement & Endorsements:
If you're hosting third-party advertisements on your website. Whether you're getting paid for them or not. You should communicate the same to your users by adding it in terms of use policy. In case you're using the information of visitors, you must disclose the same. Also, waive off the responsibility in this agreement.
For instance, Pandora has kept it quite brief by displaying a small statement.
The more you're going to learn about your market and the target audience, the better the chances you will be making to this agreement. Since it's a conventional technique, all of your users might expect specific variations over the period of time.
However, despite that, you must still let them know by mentioning the same in your policy. It can be done by adding a simple sentence. Moreover, stating that you may change some clauses and that you will keep notifying your users regarding the same.
Final Words:
While terms and conditions are not legally required, unlike the privacy policy. However, it's still an integral part of every website. Owing to the reasons mentioned above and the benefits that it brings. You must not think to ignore this aspect at any cost. If you're confused, you may also make use of policy generators – tools that you can easily find online.