How To Add A Terms And Conditions Page To Your WordPress Site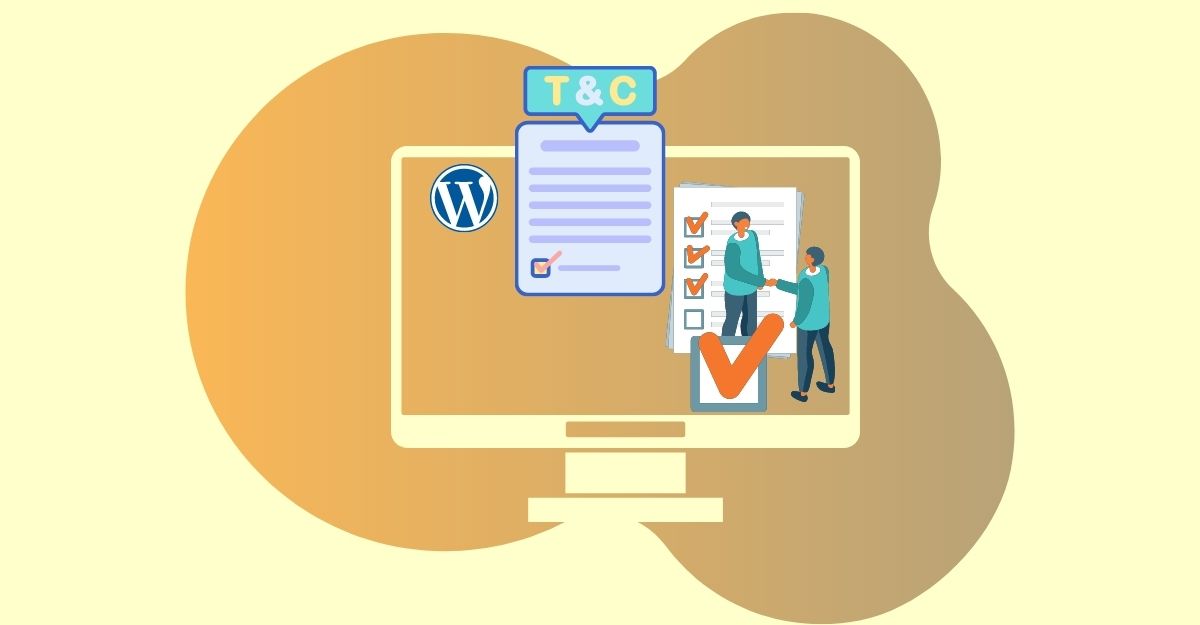 Providing people with a way to agree to your terms of services is one of the best ways, not just to protect your reputation, but your revenue as well. When it comes to adding a terms and conditions page on your site, you can either do so manually or use a WordPress terms and conditions generator. In this article, we will discuss both of these techniques.
Put simply, a terms and conditions agreement is a set of conditions that users would have to agree to navigate through your site, buy your products or use your services. For example, if you want your visitors to fill out a form or buy a product, you may have to allow your users to agree to the terms manually. In this article, we will show the step-by-step process on how to create a terms and conditions page on your WordPress website.
Types of Terms and Conditions Pages
For eCommerce Stores
If you own an eCommerce store, using the eCommerce terms of service generator will help you immensely. It lets you legally outline and apply rules that your customers need to follow to interact with the site and make purchases.
Along with that, this agreement should also give an opportunity to restrict the liability if the product delivered is faulty or customer dispute scenarios have not been defined. You can opt for an eCommerce privacy policy, return and refund policy, disclaimer, etc based on your products and/or requirements.
For an eCommerce store, this agreement can:
Protect the business from liability
Clarify the checkout process
Safeguard the trademarks and intellectual property
Give a detailed account of how disputes are handled and resolved
Offer a platform to explain payment terms, warranties, delivery terms, cancellation process, return policy, refund policy, and more.
For Blogs
Generally, blogs require terms and conditions if the owner has specific criteria that the visitors must meet. For instance, most blogs comprise the comment features to connect with the users. Thus, the blogger can add a terms and conditions policy to the blog to let users know what kind of comments are accepted and unaccepted. 
For a blog, this agreement can:
Clarify how visitors should behave on the site
Protect the intellectual property
Keep the blog and the owner away from legal issues
Whatever be your requirement, you can easily create one using the WordPress terms and conditions plugin.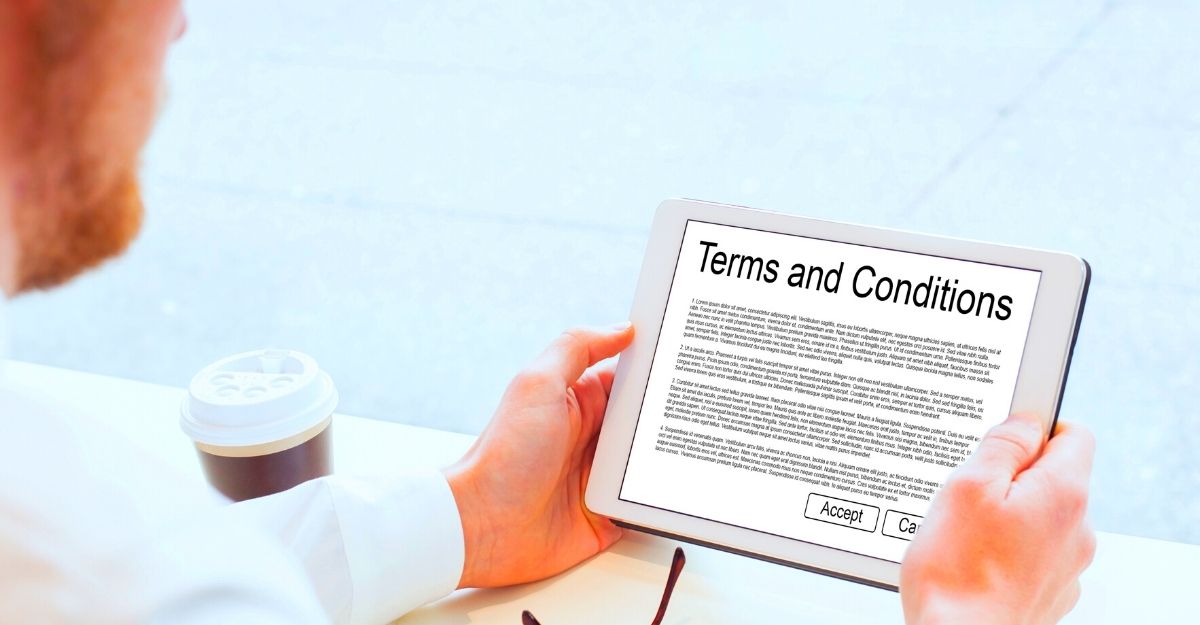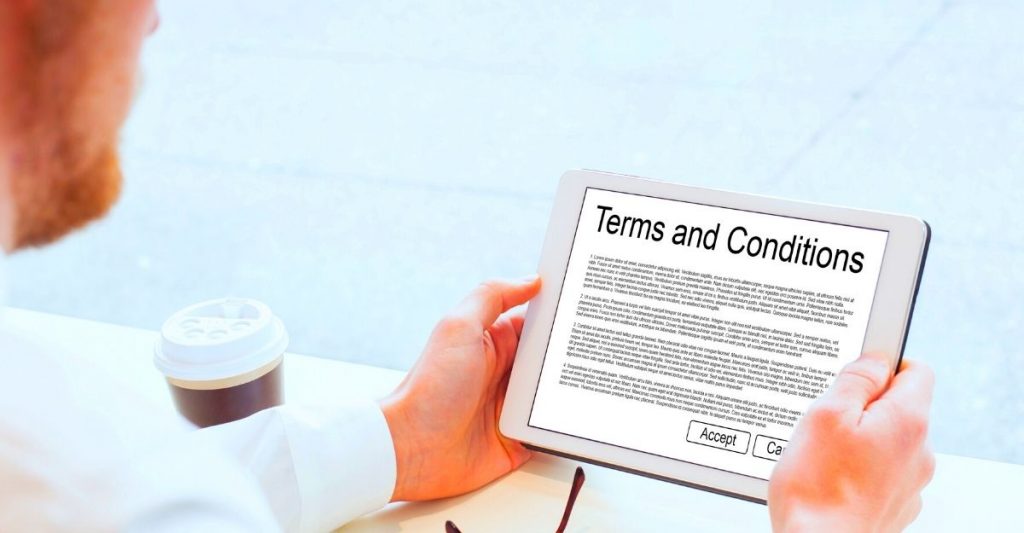 Reasons to Add A Terms and Conditions Page to your WordPress Website
When it comes to the importance of adding a terms and conditions page to the website, there are plenty of good reasons to do so:
Helps Prevent Abuse
If users have signed up with the help of a user registration form, the terms and conditions agreement can easily help avert a lot of abuse and things, such as spam, defamatory content, and more stuff from getting published on the site. 
Allows the Ownership
Adding this agreement helps if you want to be clear and direct that you own the content on your website, be it text, images, videos, and more. This will prevent people from using anything without consent.
Gives a Warning
Sometimes, you may have to cancel the registration of people because they would have violated the terms and conditions. The only method to let people know about this condition is through the agreement outlined on your website.
Limits the Liability
This is certainly true when you publish health or legal content. This will save you from any legal cases that may come your way.
How to Create a Terms and Conditions Page on WordPress?
Now that you have understood the importance of the terms and conditions page let's find out how to create a terms and conditions page on your WordPress website. Whether you are using WordPress terms and conditions plugins or doing so manually, the process will be simple and easy.
Manual Process
To create a terms and conditions page, open the WordPress dashboard. 
On the left side, hover your cursor on Pages and click on Add New


Now, you can put the title as Terms and Conditions for this page
Paste the required content of your terms and conditions in the white space
Click Publish once done
Framing the proper terms and conditions page might be complex if you are not aware of the legal terminologies. Hiring a lawyer or spending hours researching the legal terms might not be considered feasible options.  In such cases, we can use the WordPress terms and conditions plugin WP Legal Pages Pro. Using this plugin you can generate customized terms and conditions for your WordPress and WooCommerce website, and get done with it in a few minutes.
Using WordPress Terms and Conditions Plugin – WP Legal Pages
WP Legal Pages is a WordPress terms and conditions policy generator, that can help you comply with the legal policies.
The free version has some options like Privacy Policy, Terms of use, DMCA, and CCPA. You can go for the pro version if you want more template options. The pro version has 25+ templates that you can choose from. It will cover most of your compliance requirements right from disclaimers, to refund policies, affiliate agreements, and more.
In short, this terms of service generator plugin is a one-stop destination for all your website policy requirements,
Just download and install the plugin files.
Click on Legal Pages in the left panel. Select the wizard option for a quick guide.
Select the Terms and Conditions option.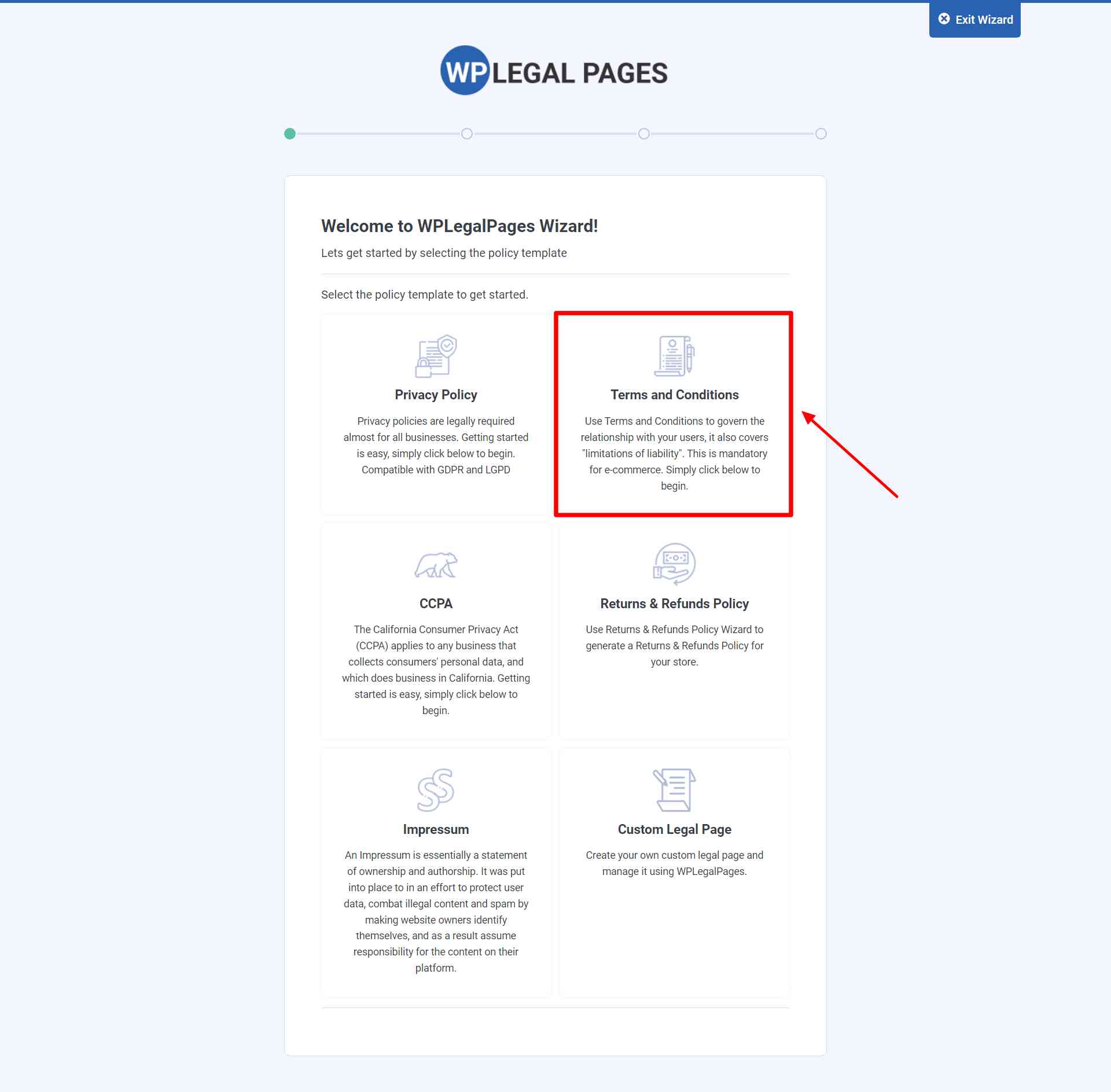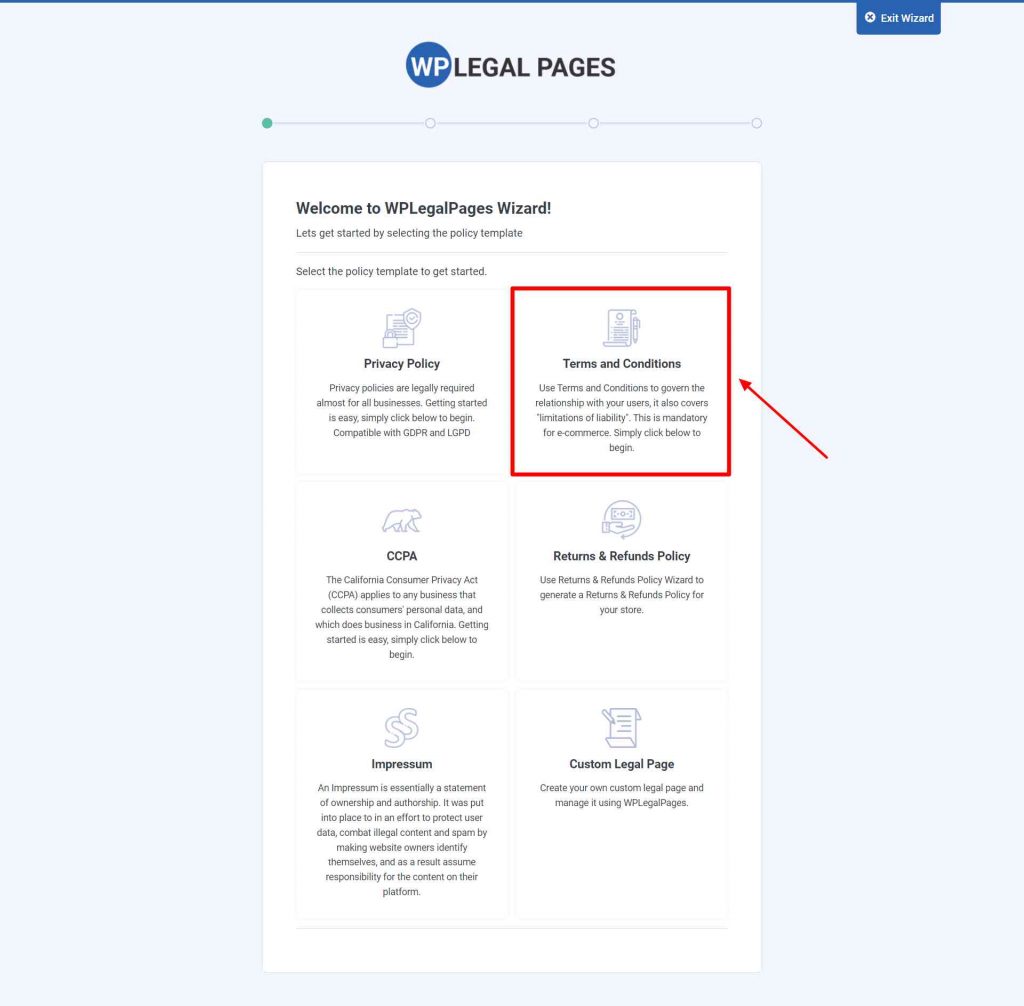 Enter your website /organization details under recommended settings. Click on next. 
Under Data Sections, select the appropriate sections as per your requirement. Click on Next 
Preview the terms and conditions policy page and Publish.
You can customize or edit the page based on your requirements under the edit Page option.
That's it. No hassle, and done in a few minutes.
Adding the Agreement on Sidebar or Footer
If you wish to add the agreement link to the sidebar or footer of the website, you can do so by manually adding the link to the sidebar.php.file or the footer.php.file. If your theme has a widget functionality, you can follow these steps:
Open the WordPress dashboard
Go to Appearance and choose Menu
Give a name to the menu and click the box available next to the T&C page
Click Add to Menu
Save menu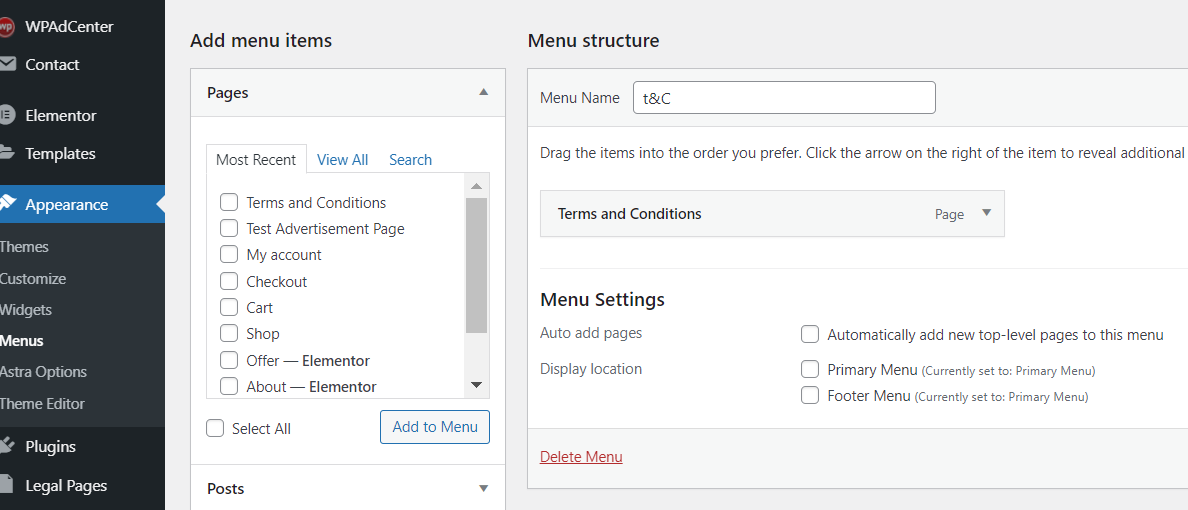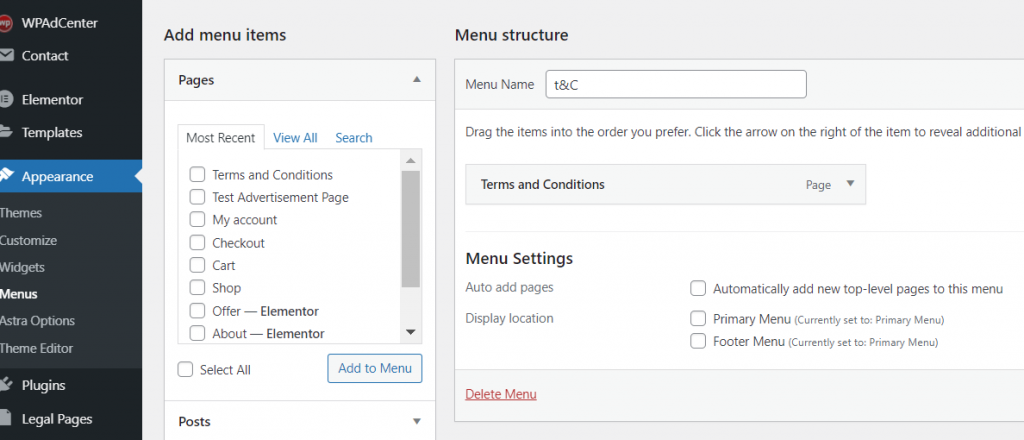 Now, go back to Appearance and choose Widgets
Under the section of Available Widgets, look for the widget for the Navigation menu
Drag it to the footer or sidebar section
Choose the menu that you created to include the T&C agreement
Final Thoughts
Now, you have got it all! Hope the procedure to add the needed terms and conditions page to your WordPress website is quite clear by now. If you are still confused about the necessity, know that the advantages that such a page offers are worth all the time and effort invested in making and adding one to the site.
However, before you continue adding a T&C to the site, make sure you cross-check all the content and clauses in a way that seems relevant to your website, target market, and products or services that you are offering.
A terms of service generator always helps in creating terms pages within no time. If you want to know more about what policies you need for your website, you can read our article.