Importance of an Ecommerce Privacy Policy For a Website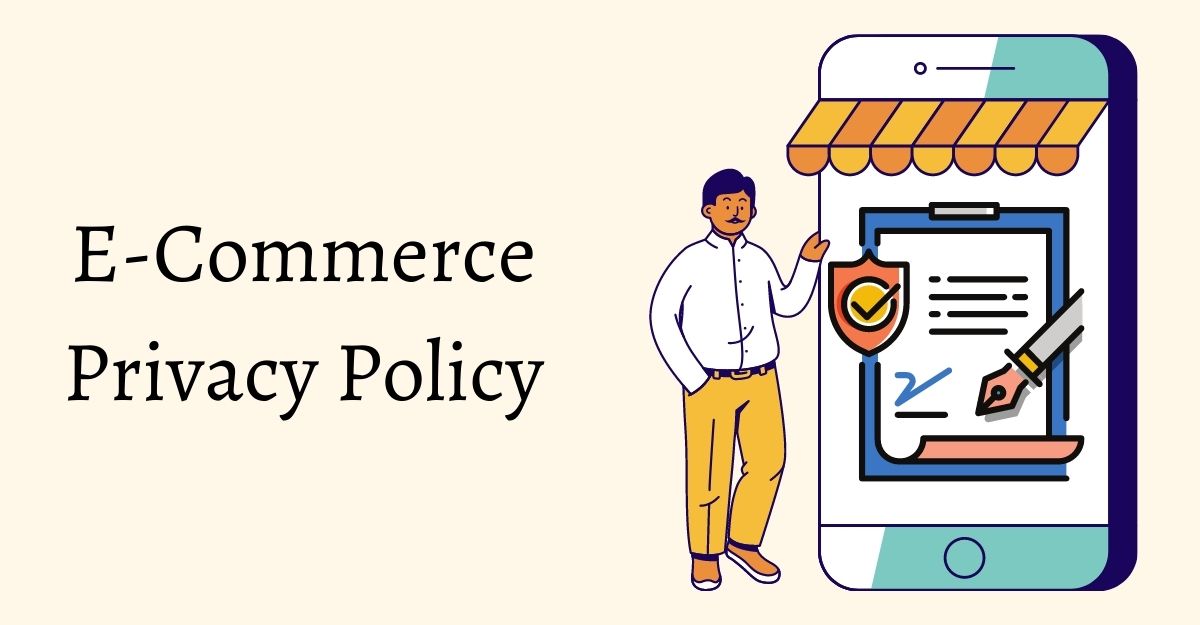 If you own an e-commerce store or are thinking of coming up with one, probably there are thousands of things that you are trying to put together. However, the most important aspect is to establish customer credibility and legal compliance by setting up an ecommerce privacy policy
Often, e-commerce websites lack a well-thought and GDPR-compliant legal policies to be displayed prominently on your store. To start with, every online store requires a Terms of Service, a standard ecommerce privacy policy, and ecommerce disclaimer. Moreover, there should also be a Returns Policy that clearly articulates how you will handle returns, cancellations, or refund requests.
Usually, these website policies explain what users can expect from the store when they choose to interact with it or buy something from your store. For e.g. you need to let your visitors know whether you are collecting their information or not and if yes, then how are you using it? The absence of such policies might not generate a high level of trust among customers. And, they might end up choosing your competitors over you.
Basically, having an ecommerce privacy policy is just like a contract with your website users that establishes accountability and trust. Here is everything you should know about it ecommerce privacy policies and their importance.
What is a Privacy Policy?
A privacy policy is one such legal document that defines different ways through which the website is collecting, processing, storing, sharing, and protecting the data of its users. Also, it even discloses the purpose behind this activity and the rights that users have in this regard.
In one way or the other. All websites are interacting with users and collecting their data. Typically, e-commerce websites collect personal data, like email address, names, IP addresses, session activity, payment details, and much more. Keeping this in mind, an ecommerce terms and conditions and  privacy policy is extremely important as it safeguards the owner of the website and, the customers alike along while ensuring that the website is adhering by the legal responsibilities
What Does the Law Say?
When it comes to designing a privacy policy for ecommerce website, the rules and regulations differ as per the country laws. For those based in the US  there is no specific data protection or privacy law for e-commerce websites or stores.
However, the California Online Privacy Protection Act of 2003 necessitates that the operators of the commercial website should display a privacy policy on the sites. Under this legal agreement, one must add.
Kind of data collected by the website
How the data is disclosed or shared
Process for customers to review and edit the information that the website has
The effective date of the policy and any changes made since then
It's essential to comply with this state laws. Coming to the laws of the UK and Europe, they're quite similar but broader. So, if your customers are coming from the UK or Europe, you must make sure that you follow the privacy laws. The European Union has outlined the EU Data Protection Directive 1995. And, states like the UK have applied the same in their native laws. In both of this legislation, business owners must cover the following points.
Notification to customers whenever their data is being collected
Personal data should only be obtained or certain and lawful reasons
Collect data should be up to date and accurate
Personal data shouldn't be stored for longer than the necessary time period
Cautious security measures to protect the data
No transfer of personal data to a country or territory outside the European Economic Area unless the appropriate level of protection is maintained
Further, even Canadian law is similar to their law comprises the Personal Information Protection and Electronic Documents Act 2000, which requires business owners to:
Get consent whenever data is collected, used or disclosed.
Supply products or services to the customers even if the consent is denied.
Gather information through lawful and fair means.
Display understandable, readily available and clear information policies.
What are the major Ecommerce privacy policies that I need?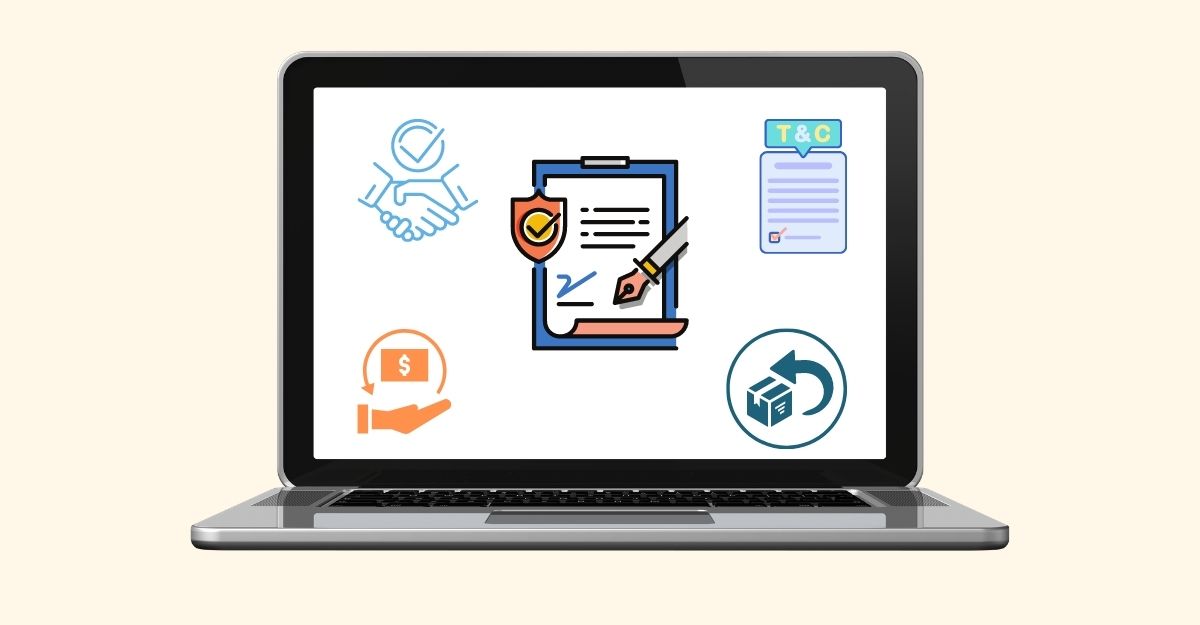 Following are the major legal documents that every ecommerce website needs to have for their protection and better user experience:
1. Privacy Policy
A privacy policy is a legal agreement between two parties. It discloses the ways in which one party can access the other party's data. It is a document that carries a set of terms and conditions that you will follow while using the personal data of your users.  In the context of a website, it discloses how the operators of the site will collect, store and utilize personal data of its visitors.
Nowadays, privacy policy is mandatory for any website. What policy to be followed depends on the area of operation. For example, if a website deals with the people of California, it has to be compliant with CCPA. Similarly, if you deal with EU citizens, you have to follow GDPR. So, having a standard ecommerce privacy policy is very important for compliance across geographies.
2.Terms & Conditions
Terms and conditions, as the name suggests, are a set of rules that you will follow for different purposes. They dictate what are allowed on your website and what are not. You need to define everything clearly in detail. There should not be any scope of ambiguity.  Generally, terms and conditions of a website contain rules about posting contents, commenting, participating in a discussion or forum etc. In the case of an eCommerce site, it acts as a legal contract between you and your users.
Using a terms and conditions generater plugin is a good idea if you are not familiar with legal policies and terminologies.
3. Return and Refund Policy
A return policy mostly speaks about the terms and conditions of returning a product, for example in how many days  or in what condition an item can be returned. A refund policy dictates the terms and conditions of any refunds that the seller offers to the buyers after they return any product.  It talks in detail about the terms and conditions of return and refund. Generally, a refund policy contains the following information –
How many days does a customer have to return a product
How will he get  the refund whether credit or replacement
Whether  you offer refunds for digital products or any in-app purchase
Who will pay for the  shipping to return the product
Here is an article elaborating on WooCommerce returns and refund policies
Why Do You Need Privacy Policy?
At this point, it's pretty clear that a privacy policy is fundamental. So, if your e-commerce website is intended to collect visitors' data. It's mandatory for you to display a privacy policy. Having said that, here are some reasons that will tell you more about the importance of privacy policy for ecommerce website.
It is the Law:
There are innumerable federal and state privacy laws that every website should be complying with. Even if you've just published a contact form where visitors are entering their phone number, name, or email address to be in touch with you.
Or, if you're collecting any sort of other data. It's essential to make visitors familiar with all the activities that will be taking place with their data. And, it can only be done through a privacy policy.
It Saves you Money
Apparently, you stepped into the business world to make a significant amount of money, isn't it? Hence, you shouldn't be squandering it by getting stuck with a hefty fee or fines just because you failed to follow the laws.
In 2012, the California Attorney General's Office specially applied CalOPPA for tablets and smartphones mobile applications, collecting personal information. Several app providers were found violating the laws. And, they were given 30 days either to comply with the rules or submit a fine up to $2500 every time their app was getting a download.
Similarly, for an e-commerce website or store, not complying with the privacy policy can bring innumerable troubles and huge fines. Would you bear the penalties or comply with the law? Surely, the latter, isn't it?
It Establishes Credibility & Trust:
 With a striking increase in corporate data breaches and identity theft issues, online users are way more cautious and interested in safeguarding their personal information than ever before. Hence, savvy customers would demand to know that their data is protected with you.
You should be answering questions like:
Are you going to resell the data?
If there is a breach, will you notify the users?
Is there any way they can opt out of mailings?
With this, you establish trust and credibility among users, and they commit more with you, without any regrets.
Third Parties Require It:
If you've integrated third-party companies to your e-commerce stores, such as Google and Amazon, you must display a privacy policy so as to use, distribute, advertise, and more through their websites. Out there, you will find several treaties, international laws, and pacts that are governing data transfers and privacy policies between different countries.
As a consequence of not adhering by this law, you risk the chances of getting sued. Over the period of time SnapChat, Google, Delta Airlines, and many other huge companies had to bear the brunt of not displaying clear privacy policies.
WPLegal Pages – ECommerce Terms and Conditions Generator

If you are not aware of the legal terminologies and templates, there is a way to easily create ecommerce privacy policy using a WordPress ecommerce privacy policy generator plugin- WP Legal Pages. This easy to use plugin helps you take your pick from over 25+ customizable legal templates, that you can use on your website. Right from ecommerce disclaimer template, return and refund policies, standard ecommerce privacy policies, this plugin offers you a plethora of options to choose from. And the best part is that many of the features of this plugin is available with the free version.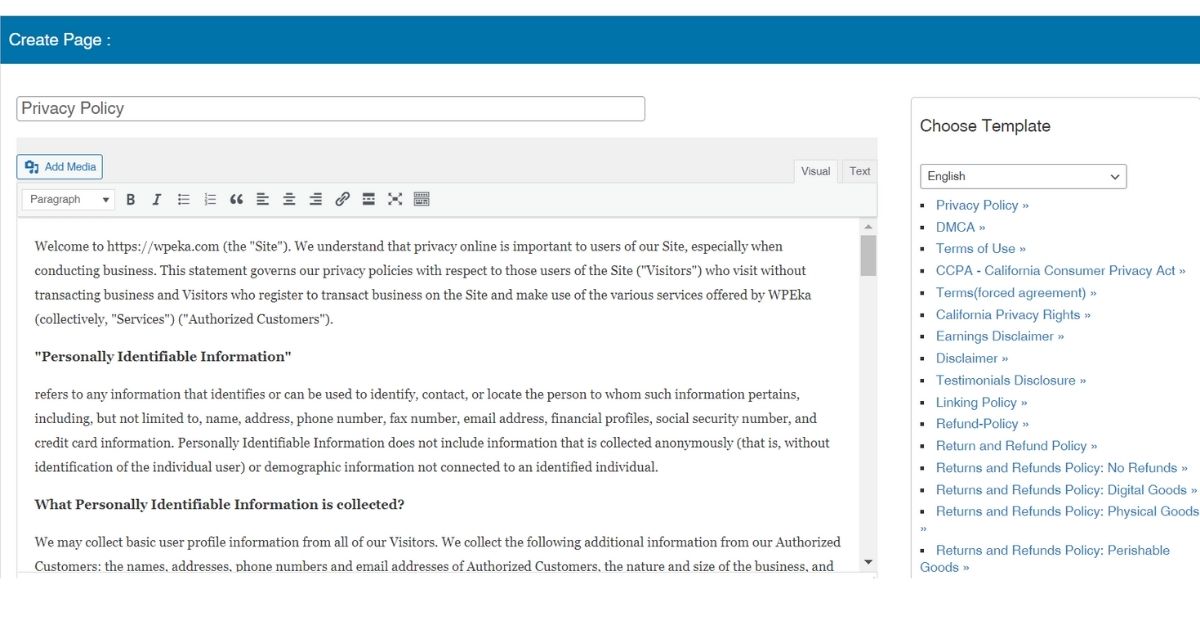 Using this ecommerce terms and conditions generator you can comply with the legal requirements and also build trust of your website visitors.
Download the free plugin here.
Conclusion:
As clear as it can get, the value of an ecommerce privacy policy cannot be denied or ignored at any cost. So, even before you think that your e-commerce portal is ready to go live and make transactions, ensure that the privacy policy is at its place and has clear and understandable information.