How To Add A Privacy Policy In WordPress?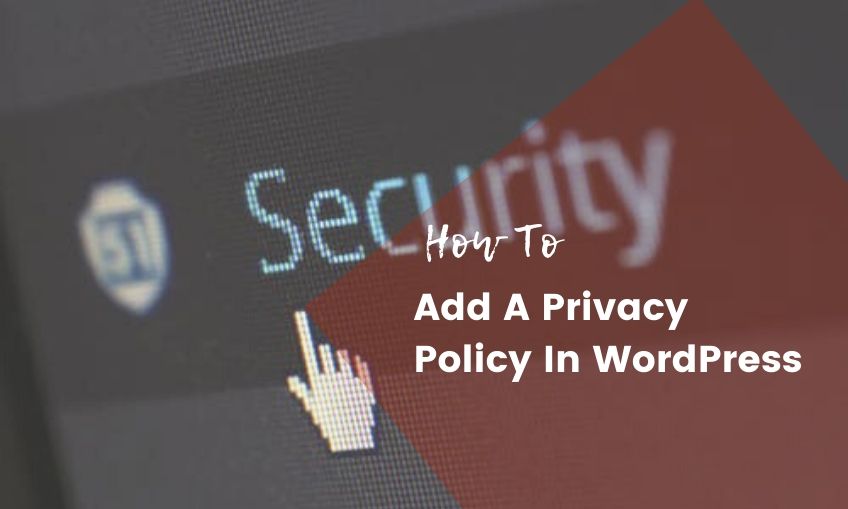 A privacy policy is a legal requirement. No matter whether you are a blogger or you run a corporate website if you are operating in a country where it is mandatory, you need to publish it on your site.
Having a privacy policy ensures that you take users' consent for collecting and process their personal data. It also makes it clear that you agree to the terms and conditions of accessing the personal data of the citizens as defined by the law.
If you are seeking some guidance about how to create a privacy policy in WordPress, you are in the right place. In this article, we will give you a step by step guide about how to create a privacy policy.
What is a privacy policy?
A privacy policy is a legal agreement between two parties that discloses the ways in which one party can access the other party's data. In other words, it is a document that carries a set of rules or terms and conditions that you will follow while using the personal data of your users. In the context of a website, it discloses how the operators of the site will collect, store and utilize the personal data of its visitors.
The definition of personal data usually includes:
The names of the users, their addresses (physical or e-mail)
IP addresses, telephone numbers, date of birth
Financial information, for example debit or credit card details.
Three reasons why you need a privacy policy on your website
Required by the law: The most important reason why you need a privacy policy is it is required by the law. If you are using the personal information of your users, it is mandatory for you to have a well-defined privacy policy and publish it on your website. 
The framework varies from region to region. You need to form your policy based on the guidelines set by the administration in your area of operation. If you are dealing with the personal data of EU citizens, you have to follow GDPR. If you are operating in California or using the citizens' personal information, you will fall under CCPA.   
Required by many third-party services: Many third-party services require you to publish a privacy policy on your website.if you want to use these services, you need to publish a privacy policy first. The most common services that require privacy policy are – Google Analytics, Facebook Apps, Twitter, etc.  
Users' trust: If you have a well-defined privacy policy on your site, it increases users' trust. Users feel safe to share their personal data. Because they know that it will be protected and they will be informed if shared further with some other person. They may also request the deletion of their data.  
What to include in a privacy policy?
Though the content requirement of a privacy policy varies from country to country, there are some general details that every privacy policy should have.
Here are the things you need to include in your privacy policy –
All information that you collect about the users or visitors of your website
The methods you use to collect users' information
Name of the third party advertisers collecting users information on your site
Links to the privacy policy of all advertising programmes you participate in
How your users can opt-out of the third-party advertisements and block cookies
Your contact details so that users can reach you if they need to
How to create a WordPress privacy policy page?
In order to create a privacy page on the WordPress website, you need to follow the steps below –
Head on to your WordPress dashboard
Hover your mouse to Pages and click Add New
Name your page as Privacy Policy and add the text you want to include in the statement
Hit Publish and your privacy policy page is live!

How to add the Privacy Policy Footer or Privacy Policy Link
Go to your Dashboard and hover over Appearance and click Menus

Name your menu, on the left hand-side you'll see the Privacy Policy page under the most recent section
Select the Footer column you want to add to.
Select the menu you want to add from the drop down, and you are done!
How to add a simple privacy policy to WordPress using WP Legal Pages (free)
WP Legal Pages is a WordPress plugin that allows you to create attorney level privacy policies on your website. The plugin comes with many rich features to make your site compliant with the privacy policies of different countries without any coding knowledge. 
All you need to do is to install and activate the plugin. But the pro version of the plugin requires the free version to be installed first. You can download it from WordPress.org.
After you have activated the plugin, follow the steps below to create a legal template – 
Go to your WordPress dashboard
Go to WPLegalPages – > Create Page
Select the Type of website you have
On the right side of your screen, a number of templates will appear
Click on the template you want to add
You can edit the content of the template in the editor if you want.
Now click on the publish button
Your legal template will be added to your website
How to add a GDPR compliant privacy policy to WordPress using WP Legal Pages (pro)
Create GDPR Cookie Policy Pages with automated third party policy details. The details are automatically collected using WP GDPR COOKIE CONSENT plugin.
Click on the GDPR Cookie Policy on the right-hand-side to create a GDPR cookie policy page
After selecting the template you can see all required data and links in template. You will also find shortcode added at the bottom. This shortcode will render a table of cookies with details of third party companies, cookie purpose and links to cookie & privacy policies of these companies.
To automatically collect cookies and cookie data you need to scan for available cookies using WP GDPR COOKIE CONSENT plugin.
Similarly you can create GDPR Privacy policy page using 'GDPR Privacy Policy' template.
Where to include a privacy policy ?
Where you will add your privacy policy on your site completely depends on your choice. You can add a privacy policy to the following areas on your website –
Footer or Sidebar
Email subscription form
Contact form
Cookie consent popup
Conclusion
Hope we could provide you with some valuable information about how to create a privacy policy page in WordPress. But what we have given here is just a road map. Every country has its own privacy laws. You first need to know the laws of the area you are operating in. Then accordingly create your WordPress privacy policy.