Do you need a Cookie Consent Banner on your WordPress Website?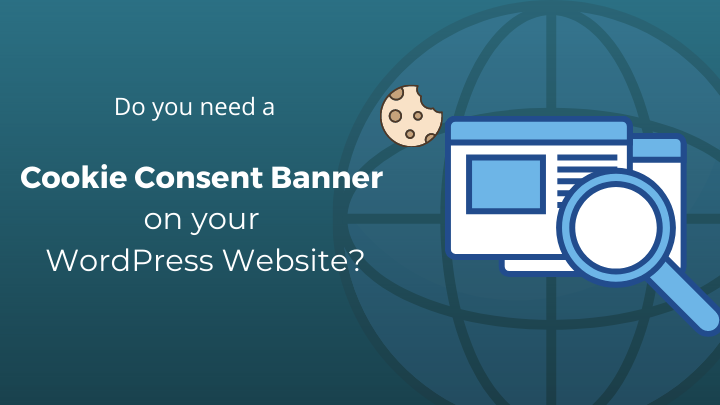 If you have been into the website development business for a while or have got one developed for your business, you must have come across the internet cookies consent banner. But how confidently can you say that you're familiar with its meaning and uses? While skimming through the word is easy, not many people know what it means and who needs this banner. To sum it all up, a cookie consent banner is a notice that is generally displayed on sites and some of the apps in the form of a pop-up whenever somebody visits for the first time.
Websites and apps use cookies to accumulate data from their visitors. In a way, posting a cookie banner would serve two different purposes. The first one is to inform visitors and users about any cookie present on the website or app, which could be collecting their data.
Along with that, this banner also communicates the rights that users hold in this regard. And the second purpose will be to ask users for their consent to run cookies on their browsers.
A perfect, concise cookie banner and a cookie policy are legally required under GDPR and ePrivacy.
How Does Internet Cookie Consent Banner Work?
When somebody gets on your app or website, a pop-up appears on the screen. This is known as the cookie banner. Through this banner, you can let your visitors know that you are using cookies and take their consent for the same.
However, most of the sites, even before getting the users' consent, set up their cookies. They neither wait to get the permission nor care to ask for one while collecting the data.
This results in massive losses and fines, leading to lost credibility and trustworthiness of the company. In such a scenario, even if there is a cookie banner, it would serve no purpose whatsoever.
Thus, while assessing the pros and cons of cookies, the latter would always be heavier than the former. Here is another article if you want to know about the importance of managing internet cookies for online businesses.
Why Do You Need a Cookie Banner on Your Website?
Now that the meaning of what are internet cookie policy is clear, you would be wondering if you require this banner on your site or not? Ultimately, who decides whether such a banner should be present or not?
So basically, you would need a cookie banner if you are collecting data from those visitors who belong to European Union countries; or if your website is working in any of these countries.
In general, only EU laws need cookie banners. This means that you are bound by the law to show this banner to your visitors. However, since who is visiting your site or app is really not in your control and you might also be using tracking technologies, such as social media buttons, WordPress plugins, Facebook Pixel, Google Analytics, etc., it would be recommended to have a cookie banner to stay protected.
Initially, the EU regulated this matter in 2002 with the ePrivacy Directive. Back then, they made it mandatory for site owners to get consent from the visitors. And, this is when the appearance of cookie banners took place on the internet.
And then, in May 2018, the General Data Privacy Regulation (GDPR) came into effect and made it mandatory to put cookie banners, avoiding which would impose heavier penalties and fines.
What Should You Include in a Cookie Notice?
If you have not published a cookie notice so far, now is the perfect time to do so. Here are a few things that you must add to the cookie notice banner:
A brief explanation of the purpose of cookie installation on the site
Clear stating of the consent taking action
Keep everything short and noticeable
Make categories of cookies, usage, purposes, and third-party activities or link the banner to the cookie policy page
What are the Requirements by GDPR?
Before GDPR, you had the liberty to add a banner stating, "By using this website/app, you accept cookies." However, this trick does not work anymore. Now, you have to specifically ask the consent to use the personal data of visitors.
On top of that, they must also opt-in to provide you with permission to use the data. Put simply, GDPR cookie consent policy needs you to publish a cookie banner that would inform visitors about the cookies, how and why their data is being collected. Along with that:
You must also provide the chance to opt-out or opt-in any cookie type
Get the consent before taking any data
Keep a complete record of accumulated consents
Let visitors withdraw their consent at any given time
Delete the data of visitors upon request
Cookie Consent Examples
Let's go through examples of where and how you can display the cookie consent notice on the website.
Footer Banner
One of the most common locations for the cookie banner is the footer of the site. Take the example of The Guardian – the UK newspaper that has put a box in their site's footer with a link to the cookie policy.


Header Banner
Another location to post the cookie banner is on the header section of the website. Through this, you can make the banner instantly visible to anybody who would visit your site. In the example, check out BBC's cookie consent banner:


Corner Box
Some of the companies prefer keeping a pop-up box in the corner of the website. However, to see the box, visitors would have to interact with the same. Financial Times has a similar box on the site:


WordPress Cookie Consent Plugin
Now that you know about whether you need a cookie consent banner on your website, and the pros and cons of cookies, here is a WordPress cookie consent plugin that works as a great cookie consent generator. You can get fully customizable cookie consent notice that can help you comply with the EU GDPR's cookie consent and CCPA's "Do Not Sell" opt-out regulations.


Conclusion
When it comes to displaying the cookie consent banner, there are plenty of places to choose from on the website. However, keep in mind that you publish it in such a way that it is readily available. Your visitors must notice the banner and consent. If you want, you can also link the banner to a separate page of the cookies policy to make it easier for customers to access it instantly.