How To Create Amazon Affiliate Disclaimers On Website?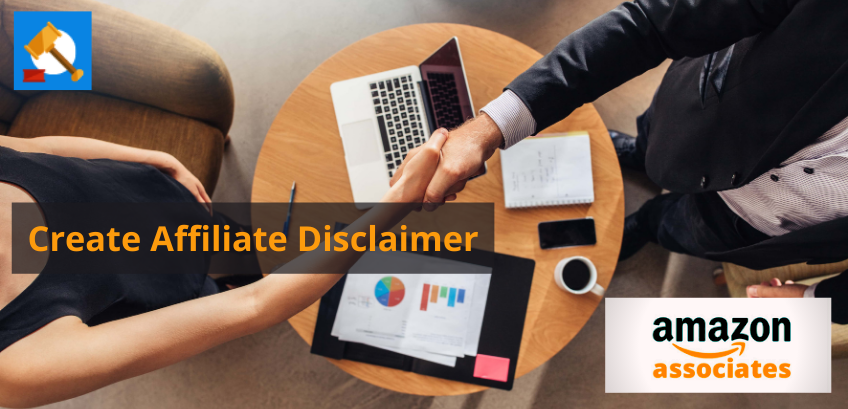 Affiliate disclaimer is one of the essential things if you want to become an associate. Amazon makes it mandatory to publish a legal disclaimer on your site if you take part in the affiliate programme. An amazon affiliate generator plugin will help you create your disclaimer without any difficulty. In this article, we will show you how to create amazon affiliate disclaimer for WordPress.
What is the Amazon Associates programme?
Amazon Associates programme is one of its kind programmes by Amazon to promote affiliate marketing. Amazon is one of the biggest affiliate programmes in the world. It helps you to earn revenue from qualifying purchases or programmes through traffic that you drive to Amazon. All you have to do is to share amazon products or programmes that are available on Amazon with your visitors through customized linking tools. Furthermore, you get your share on every purchase that takes place through your affiliate links. You get commission if a user makes an action like signing for a programme and likes.
In order to take part in the Amazon Affiliate programme, you have to be an Associate of Amazon. That is the reason, the programme is known as Amazon Associate programme. Bloggers, publishers and content creators take part in the programme. All they need to have is a qualifying website or a mobile app. Recently Amazon has launched its Local Associate Programme. This programme allows you to promote local products or the products of your own region on your site through affiliate marketing.
How to be an Amazon Associate?
Firstly, Becoming an Amazon Associate is much easier than you think. All you need for that is an account with Amazon. Here is a step by step guide about how to become an Amazon Associate –
Log in to Amazon Affiliate area
Scroll down to the bottom of the homepage
Click on the "Become an affiliate" link
A new page will open with all the necessary details regarding the affiliate programme
You will find a "Join now" button there. Click on it
Enter your personal details in the respective fields
You will now have to provide your website details
Next step is to give your preferred store ID, details about how you build links and drive traffic to your site
Submit the details
After this process is over, Amazon will go for verification. Amazon usually asks for your phone number for verification purpose. After you enter a phone number, a pin number appears on your screen. You have to give that pin number when you get an automated call from Amazon for verification.
After verification, you get a welcome message from Amazon. The last thing you have to do is to choose the payment option. Amazon gives you three options – check, direct deposit or Amazon gift card. After you mention how you want to be paid, the process is over. You are now ready to begin.
Need for privacy policy and Amazon Affiliate Discaimer
Amazon is very strict about rules and regulation, unlike other affiliate programs. You have to abide by the rules set up by Amazon in order to participate in their associate programmes. It requires you to publish certain legal documents on your site.
Here are the documents you need if you want to become an Amazon Associate:
Privacy Policy
Affiliate disclaimer
However, the terms and conditions of Amazon do not make it mandatory for you to publish a privacy policy. Yet, if you are using the personal data of the citizens of your area of operation, you need to have a privacy policy. It is a legal requirement.
Section 5 of Amazon Associate Agreement is known as "Identify yourself as an Associate". It clearly mentions " state the following on your site or any other location where Amazon may authorize your display or other use of Content: "We are a participant in the Amazon Services LLC Associates Program, an affiliate advertising program designed to provide a means for us to earn fees by linking to Amazon.com and affiliated sites"
Section 10 of the Amazon Affiliate Programme mentions that you need to state the following on your site "[Insert your name] is a participant in the Amazon Services LLC Associates Program, an affiliate advertising program designed to provide a means for sites to earn advertising fees by advertising and linking to [insert the applicable site name (amazon.com or myhabit.com)]."
In simple words, you must disclose it on your site that you will get compensation by Amazon when any user clicks on an affiliate link and takes the desired actions like making a purchase or signing up for a programme.
The Federal Trade Commission or the FTC of the USA has an "Endorsement Guide". The document has certain guidelines for affiliate disclaimers.
As per the guidelines, your Amazon affiliate disclaimer must:
Disclose your relationship with amazon
Your user must know that if they use an affiliate link and you will get paid. If they make any purchase through your affiliate links. Section 10 of the programme agreement also states the same.
Must be clear and understandable
Everyone does not know what an affiliate link is. Simply stating that there is an affiliate link will not serve the purpose. To be honst, you have to make it clear to everyone that you earn revenue through your participation in the Amazon Associate Programme. You have to mention it clearly.
Be placed predominantly and conspicuously
Your disclosure musthave prominent placement on the website. Users should find it easily and know about your participation in affiliate programmes. It should be placed near the affiliate link so that whenever a user clicks on the link, he or she gets to see the information.
Keep the above-mentioned points in mind while writing your disclaimer. Here are some more tips to make your disclaimer effective –
Be direct and use easy words
Remember your disclaimer is for everyone and the purpose of it is to make people aware that you are an Amazon Associate. Therefore, use simeple and comprehendable language.
Use simple and to the point sentences
People should understand your message completely. There should not be any scope of any confusion. So, it is always better to use simple and to the point sentences. Otherwise, a large number of people may find it difficult to understand what you are trying to communicate.
Keep it short and compact
No one wants to read a long document. It makes your readers irritated. If you want your readers to go through your disclaimer, keep it short and compact.
How to create Amazon affiliate disclaimer?
There are many options available to you if you want to create Amazon Associate disclosure. You can either create a page manually or go for other easier options like using a plugin. And, nowadays there are hundreds of plugins in the market for WordPress which will offer you tons of readymade features to create your disclaimer. Here we will show you using a plugin called WP Legal Pages Pro.
Use WP Legal Pages to create disclaimer for your Amazon Associate Affiliate programme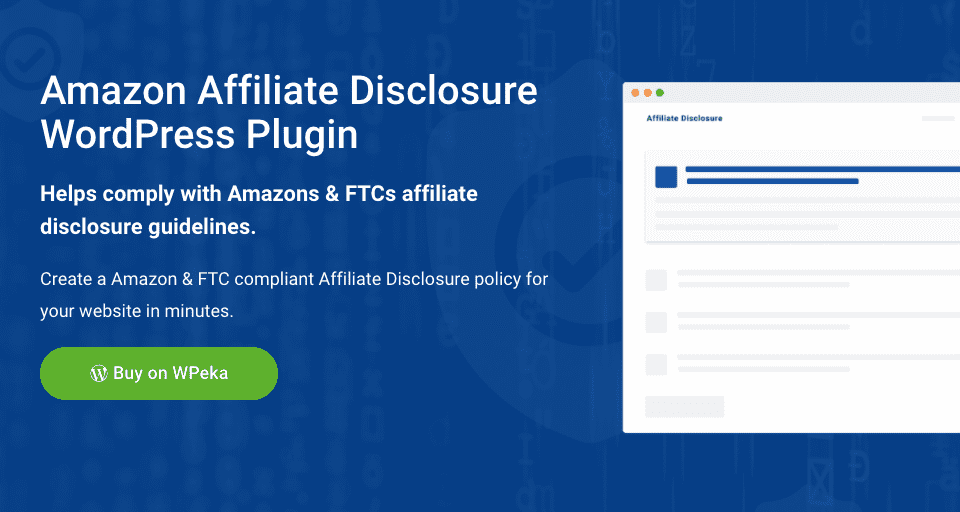 WP Legal Pages Pro is a multipurpose WordPress plugin to create legal documents. It offers you 25+ pre-designed legal templates that allow you to create attorney level legal documents. You just have to enter your details and click on the publish button. No need to take help from anybody. It is a user-friendly plugin. Moreover, Documentation for all the the features is available. Here, we will show you how to create an Amazon Affiliate disclosure with this powerful plugin with a step by step guide.
To create amazon affiliate disclosure, you need the pro version of the plugin. You can buy it from the official website of the plugin, wplegalpages.com. It is available at $39 /Year. But the pro version needs the free version installed on your device. Also, you have to download the free version of the plugin from wordpress.org. After purchase, install and activate the pro version.
After the installation process is over, follow the steps below to create your disclaimer –
Go to your WordPress dashboard
Go to Create Page
A list of types of websites will appear
Now you have to select the type of website you have
Choose Affiliate / Review site
If your site is multipurpose, select "All"
After that, you have to choose a template
On the right-hand side of the dashboard, a list of templates will appear
Select disclaimer
The template will open in the editor with all the necessary fields and details a disclaimer needs
You can edit the texts if you wish to
Enter your details
Click on the publish button
Your Amazon Affiliate disclaimer will be ready
Never forget to check the preview before you publish the page
Check out the complete guide to learn how to add affiliate disclosure to every blog on the website.
Conclusion
To sum it up, We have shared easy way to Create Amazon Affiliate Disclaimer with you. Hope you found the steps useful. Install and activate the plugin and you will be able to create your disclaimer within a few minutes. There is nothing that can stop you from realizing your dream of becoming an Amazon associate.
If you liked the article, please share it on Facebook and Twitter. Leave your feedback in the comments section. We would love to hear from you. Also, If you have any questions, please let us know. We will get back to you soon. Subscribe to our YouTube channel for our video tutorials.