25 Free Legal Templates For WordPress Websites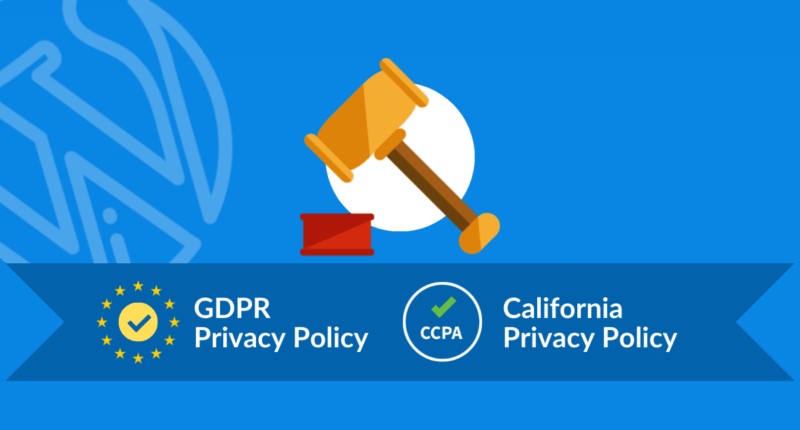 Publishing legal documents is essential for any website. While it is a legal requirement in many countries, it helps you to maintain good terms with your customers also. And a pre-designed legal template helps you to create your own document based on your needs and publish it on your own. WP legal pages is a WordPress plugin that offers you more than 25 legal templates which you can use to publish legal documents on your site. In this article, we will give you a detailed guide about how to use the plugin along with the list of templates it comes with.
Importance of legal documents for websites.
Following are the reasons why you must have legal documents online –
Having a privacy policy and certain disclaimers are a legal requirement. What kind of documents you should put on your site depends on the type of business you have.
It is important to gain the trust of your users. If everything is well defined, people come back to you again and it develops a long-lasting relationship.
It protects your site contents from infringement if you have a copyright.
The terms and condition pages protect the online communities that you create on your websites as it sets guidelines for members.
Many third-party services that you deal with from time to time. For Example; Google Analytics, Twitter, Facebook Apps require you to publish some legal documents like a privacy policy.
What could be the legal issues for not having them?
A small legal trouble is enough to destroy your entire business. While the legal battle will affect your time, energy and resources, the spread of the rumour will affect your reputation so badly that it will become difficult for you to survive. In order to avoid these troubles, you must publish the required legal documents on your site.
The major legal issues a website often faces are –
Theft or fraud
Theft or fraud is a serious cuber issue today. The most common problem are Identity theft, internet time theft and intellectual property. Identity theft is doing something under some other person's name. Internet time theft is nothing but unauthorised use of the internet for a long time. Intellectual property theft is use of someone else's intellectual property. You have to be very serious about the security of your website to avoid it. That is why Mentioning the terms and condition of use must be clear.
Trespass
Trespass is a cybercrime in most of the countries in the World. It simply means unauthorised use of a website. If somebody accesses the personal data of your users it is unfortunate. Your privacy policy should make it clear to the visitors that their data is safe.
Vandalism
Vandalism of a website is if someone changes the content of your website without your approval. There are different reasons for vandalism of websites. The most common is hacking. You have to ensure it to your visitors that your website is protected from hackers.
Harassment
Harassment can be of many types. Some comments made by someone can cause harassment for some other person. If users are allowed to post on your site, some content too can cause harassment for somebody. Your terms and conditions should be clearly defined t get rid of this problem.
Copyright infringement
Lastly, Copyright infringement refers to the use of copyright-protected material without permission. The right of use and production reamains with the copyright holder. Individuals and organisations can register for copyright for their works for protection. Other parties can be given permission to use those works through licensing. Hence, you need to give clear notice of copyrights on website.
Did you know? The Australian privacy act is much older than many other popular privacy laws of the world, including GDPR and CCPA. Learn more in our dedicated article on the Australian Privacy Policy Principles.
What legal pages should a website have?
Legal templates strengthen your bond with your users. They make you transparent in the eyes of them which saves you from unwanted legal issues.
What legal web pages a website should have depends largely on the type of the site. If it is an eCommerce site, the requirement will be completely different from that of a personal blog. The requirement also varies with the area of operation. Every country has its own cyber laws. So, you need to check your purpose and who you deal with first.
Following are the major legal documents that every website needs to have for their protection.
1. Privacy Policy
A privacy policy is a legal agreement between two parties. It discloses the ways in which one party can access the other party's data. It is a document that carries a set of terms and conditions that you will follow while using the personal data of your users. In the context of a website, it discloses how the operators of the site will collect, store and utilize personal data of its visitors. Nowadays, privacy policy is mandatory for any website. What policy to be followed depends on the area of operation. For example, if a website deals with the people of California, it has to be compliant with CCPA. Similarly, if you deal with EU citizens, you have to follow GDPR.
2.Terms & Conditions
Terms and conditions, as the name suggests, are a set of rules that you will follow for different purposes. They dictate what are allowed on your website and what are not. You need to define everything clearly in detail. There should not be any scope of ambiguity. Generally, terms and conditions of a website contain rules about posting contents, commenting, participating in a discussion or forum etc. In the case of an eCommerce site, it acts as a legal contract between you and your users.
3.Refund Policy
A refund policy which dictates the terms and conditions of any refunds that the seller offers to the buyers after they return any product. It talks in detail about the terms and conditions of return and refund. Generally, a refund policy contains the following information –
How many days does a customer have to return a product
How will he get the refund whether credit or replacement
Whether you offer refunds for digital products or any in-app purchase
Who will pay for the shipping to return the product
4.Cookie Policy
A cookie policy is a declaration to the visitors of your website about the active cookies on your website. It generally talks about what user data the cookies track, for what purpose, and where the data is stored or sent. Many website owners choose to incorporate the cookie policy as a section of their privacy policy. If you are using cookies, it is required by the law to let people know about it. They have the option to allow or not to allow the cookies on their local devices.
Apart from these, here are some other important web pages a website should have –
Copyrights
Disclaimers
Corporate policies
Accessibility information
Affiliate agreement
Anti-spam policy
Complaints contact information
Compensation disclosure policy
Get free legal templates for your WordPress website
It is a proven fact that legal documents are important for a website. But if you want to create free legal pages for your WordPress website with pre-designed templates, the first question that will come to your mind is where to get a free legal template?
This is where WP legal pages plugin comes into the picture. It is an advanced WordPress plugin for creating legal documents on your site. It will offer you tons of pre-designed templates created for different purposes. Therefore, with the templates you can create your own pages without taking help from any lawyer. All the templates are designed after having a consultation with experienced lawyers.
The plugin comes in both free and premium versions. You may go for the free version initially and upgrade to the premium version later.
The key features of the plugin are as follows –
WP legal pages plugin is super easy to install. You can download, install and activate the plugin in less than five minutes.
There are 25+ predesigned templates. You can choose the most appropriate one for you and get started. All you have to do is enter your details.
You can edit your templates anytime after they are published. It helps you to keep your pages updated and keep pace with time.
There are easy to use shortcodes to display legal information on your pages. They are so simple that even a layman without any technical knowledge can use them.
WP legal pages is a beginner-friendly plugin. It is well documented. All the features are self-explanatory. You can follow easy to use docs and guides on the wp legal pages website to use the plugin.
The plugin is backed with technical support from a team of experienced developers. It is available 24X7. Any moment you can contact them when you are stuck somewhere.
How can you add different legal pages using WP legal Pages?
WP Legal Pages plugin allows you to create attorney level privacy legal pages on your website. The plugin comes with many rich features to make your site compliant with the privacy policies of different countries without any hassle. You can create legal pages for your site on your own within a few minutes. All you need to do is to install the plugin and activate it. You can download it from WPeka website or WordPress.org.
After you have activated the plugin, follow the steps below to create a legal template –
Go to your WordPress dashboard
Go to WPLegalPages – > Create Page
Select the Type of website you have
On the right side of your screen, a number of templates will appear
Click on the template you need
The content of the template in your editor, you can edit it if you want
Now click on the publish button
Your legal template will be added to your website
25+ Ready Legal Templates for WordPress Users
All the templates of WP legal pages are designed keeping your need in mind. Hardly there is any condition for which you will not get any template. Here is the list of all the legal pages templates available with WP legal pages pro
GDPR Privacy Policy
GDPR Cookie Policy
Terms of Service
Terms & Conditions
CCPA (California Consumers Privacy Act)
Amazon Affiliate Disclosure
Privacy Policy Wizards
Linking Policy
Blog Comments Policy
Affiliate Agreement
Affiliate Marketing Disclosures
External Links Policy
DoubleClick DART Cookie Policy
Returns & Refunds
Digital Goods Refunds
Anti Spam Policy (CASL Compliant)
Privacy Policy for Facebook Apps
Earnings Disclaimer
Medical Disclaimers
General Disclaimers
FTC Disclaimer Widgets
FTC Testimonials Disclosure
California Privacy Rights Policy
DMCA Policy
Children's Online Privacy Policy (COPPA)
Newsletter Subscription Policy
Refund Policy
FTC Disclosure Statement
Conclusion
We have tried our best to offer you a solution for the issues you are facing regarding the creation of legal pages on your website. Go through the step by step guide and you will be able to publish legal documents on your website using the pre-designed legal templates offered by WP legal pages in a few minutes.
If you liked the article, please share it on Facebook and Twitter. If you have any questions, let us know. We will get back to you soon. Subscribe to our Youtube channel for our video tutorials.